Exceptional Healthcare Awards 2018: Making a Difference
Exceptional Healthcare Awards 2018: Making a Difference
Monday, 29 October 2018
In the lead-up to our staff awards on November 9 we are sharing details of our shortlisted nominees in the Exceptional Healthcare Awards, which are supported by Southmead Hospital Charity. 
Today we are featuring the nominees in the Making a Difference category, which recognises teams or individuals who have consistently provided excellent customer care to either patients, visitors, members of staff or other users.
The nominees are:
Breast Cancer Living Well Course Team
The Living Well breast care team, which is made up of breast care nurses, psychologists, and volunteer expert patients - those North Bristol NHS Trust (NBT) patients who have personal experience of going through cancer treatment, have worked together to develop and run an innovative course tailored to support women with their physical, emotional, and social recovery following breast cancer.
Despite seeing an increased workload the breast care nurses have been committed to providing compassionate, effective whole person care to their patients. The courses make a huge difference to patients' wellbeing with statistically significant improvements on quality of life, mood, fatigue management, and women feeling more empowered to self-manage their condition.
Helen Spear, Macmillan Speech and Language Therapist Neuro-Oncology
Helen supports patients with communication and swallowing difficulties resulting from brain tumours from diagnosis to end of life.  When a patient undergoes 'awake craniotomy', Helen assesses their communication during the operation, informing the neurosurgeons when their intervention is impacting on the patient's communication as well as supporting the patients during what might otherwise be a terrifying ordeal. 
Sadly, for many of these patients their diagnosis is terminal and Helen will provide continuity of care right through to end of life with compassion, empathy and dedication, ensuring that patients are supported emotionally throughout their incredibly difficult journey.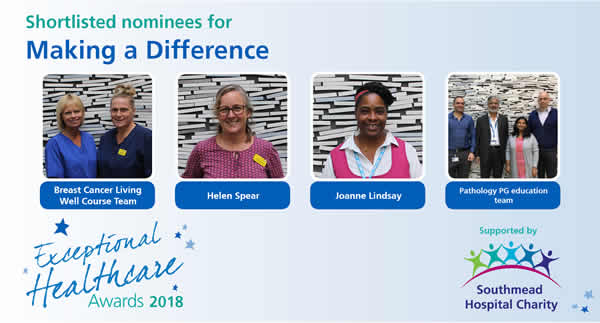 Joanne Lindsay, Admin clerk
Joanne consistently shows great patience and tact when dealing with patients by telephone when they need to make or change their outpatient appointments. 
She remains calm and helpful and treats the patient with great respect even at times when patients are emotional or agitated.   
We work in open plan offices and recently three people outside our department took the trouble to either email or speak to me to say how impressed they were with Joanne's dealing with a particularly difficult patient conversation.
Nidhi Bhatt and the Pathology Postgraduate education team
The NBT Pathology junior doctor training programme was struggling with its results and feedback two years ago, so a team of consultant pathologists set out to revamp the training programme and introduced clear structure, protected time, sufficient supervision and support and exam-focused training.
In 2017/18 - all trainees passed their RCPath exams and 2018 GMC survey confirms NBT has the most improved satisfaction score (93.20 out of 100) compared to negative trends elsewhere in the UK.
This supportive environment has helped in the recruitment and retention of trainees who have since been keen to continue to work in NBT as consultants.