Exceptional Healthcare Awards - Best Improvement in Patient Experience
Exceptional Healthcare Awards - Best Improvement in Patient Experience
Wednesday, 8 November 2017
This year's Exceptional Healthcare Awards are just around the corner.
The awards, supported by Southmead Hospital Charity, celebrate the efforts and achievements of some of our outstanding members of staff and volunteers.
In the run up to the awards ceremony on November 10, we are showcasing the shortlisted nominees in every category.
Today we are highlighting the shortlisted nominees in the Best Improvement in Patient Experience category, which recognises teams or individuals who have made changes to the working environment and /or practices that improve the patient experience.
The shortlisted nominees are:
Katharine Caddick, Liver Specialist Nurse
Katharine's nomination discussed how she has transformed the patient experience of patients with liver disease, providing abdominal drains to reduce the burden on junior doctors. Katharine's work has helped to ensure patients receive timely, specialist care and is a great asset.
Annie Thornton, Major Trauma Coordinator
Annie has developed the Quality Trauma Discharge (QTD), providing all major trauma patients with an opportunity to share information relating to injuries, rehabilitation details, and anything else. Annie's nomination discusses how the feedback from patients has shown a reduction in anxiety on discharge.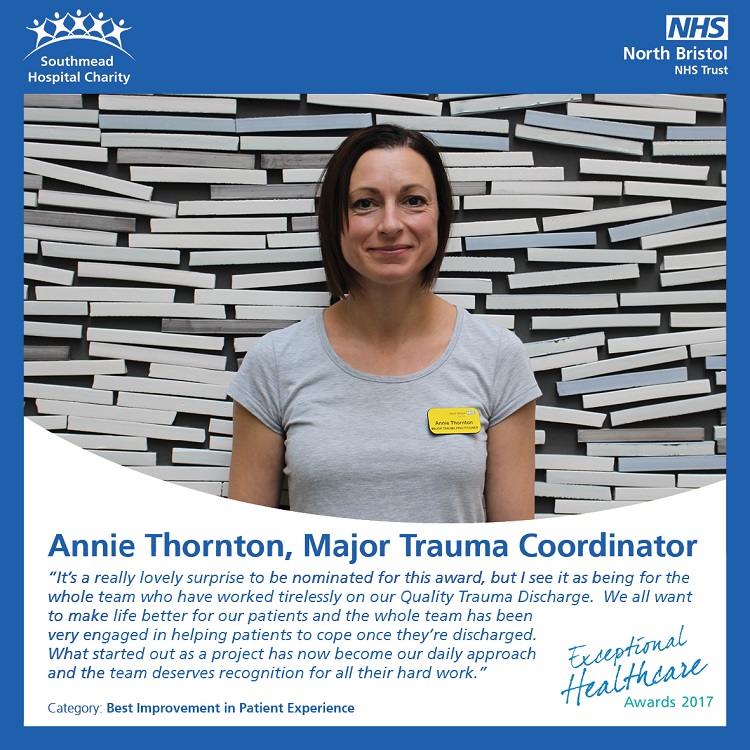 Emma Wright and the Gate 25a Nursing Team
Gate 25a were nominated for delivering an outstanding level of care and experience for patients and their families. Their nomination highlights how the team go beyond what is expected of them within their roles to ensure that patients and families have the best possible experience whilst in our care.