Exceptional Healthcare Awards - Best Quality Research and Innovation
Exceptional Healthcare Awards - Best Quality Research and Innovation
Tuesday, 10 November 2015
North Bristol NHS Trust is honouring outstanding members of staff and volunteers with its Exceptional Healthcare Awards.
The 2015 awards, supported by Southmead Hospital Charity, recognise and reward the hard work of staff and volunteers at the Trust.
The awards will take place on Friday, November 20, and in the lead up to the ceremony we are showcasing the shortlisted nominees in each category.
Today's category is Best Quality Research and Innovation, which recognises teams or individuals who have developed or introduced a new product, technique, system or procedure which originated in a clinical practice or a research project.
Jason Kendall
Emergency Department Consultant Jason was praised for his commitment to research and innovation and his ability to motivate and inspire his colleagues to get involved.
He leads and manages many national research projects, implementing them within the Southmead Hospital Emergency Department with positive outcomes. Examples of innovations he has led include the areas of stroke thrombolysis, venous thromboembolism (VTE) assessment and the use of Tranexamic Acid (TXA) in cerebral bleeds.
Jason, who has worked as an Emergency Medicine Consultant at NBT for 17 years, was credited with having a "boundless energy and passion for research which inspires everyone around him".
He leads or is professional advisor on Trust and national committees and ensures all members of the Emergency Department team are kept up to date with research and are actively involved in recruiting to trials and projects, making NBT one of the leading trusts in many national trials or projects.
The nomination said: "Through his research and innovation, Jason has improved treatments and outcomes for patients with many different conditions and for many clinical pathways."
Jason said he was surprised but honoured to be nominated for the award.
"I have always tried to give research a high priority in the emergency department despite the difficult environment in which we work because I believe strongly that a research-active department is generally at the forefront of evidence-based practice in emergency medicine," he said.
CT Times Improvement
Work has been carried out within the Major Trauma Centre at Southmead Hospital to ensure that severely injured patients receive a CT scan within 30 minutes of arrival.
Emergency Medicine Consultant Nicola Morgan led a working group made up of ED and CT staff to look at changes that could be made to improve times.   
The work has led to some changes to equipment and snapshot training within the department to improve the service the Trust provides to Major Trauma patients.
Stephen Whitehead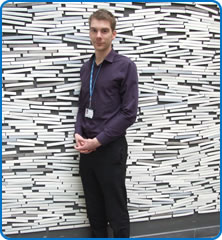 North Bristol NHS Trust's Pharmacy IT lead developed an innovative discharge medicines tracking system using existing resources.
The system provides a visual display in the main dispensary to ensure that work for patient discharge prescriptions is delivered according to key performance indicators, such as timescales.
Stephen considered the data that was already captured and utilised it to give the pharmacy dispensing team real-time information about performance and any impending breaches.
He has also developed tools to provide financial monitoring, including ward drug stocks and stock turnover along with an intranet site that supports all staff within the department, the Trust as a whole and the provision of safer care with medicines.
Stephen said: "My nomination came as a complete surprise – I hadn't expected it at all, but it was great to feel recognised for my efforts."