Exceptional Healthcare Awards - Best Quality Research or Innovation
Exceptional Healthcare Awards - Best Quality Research or Innovation
Wednesday, 1 November 2017
Only nine days to go until our annual Exceptional Healthcare Awards.
The awards, supported by Southmead Hospital Charity, celebrate the efforts and achievements of some of our outstanding members of staff and volunteers.
In the lead-up to the awards ceremony on November 10, we will be showcasing the shortlisted nominees in every category.
The second category is Best Quality Research or Innovation, which recognised teams or individuals who have developed or introduced a new product, technique, system or procedure which originated in a clinical procedure or a research project.
The shortlisted nominees are:
Ashley Blom and the Musculoskeletal Research Unit
Ashley and the team were nominated for their five-year research project, RESTORE which looked at improving the experience of joint replacement patients. The nomination highlights how the work has made such a difference that it has become routine care in most hospitals in the country.
Olivia Donnelley and Hazel O'Dowd, Clinical Psychologists
Hazel and Olivia have designed wellbeing projects to help manage stress, improve sleep and enhance personal resilience within the workplace and home. The nomination mentioned the effectiveness of their work, which has received positive feedback from staff.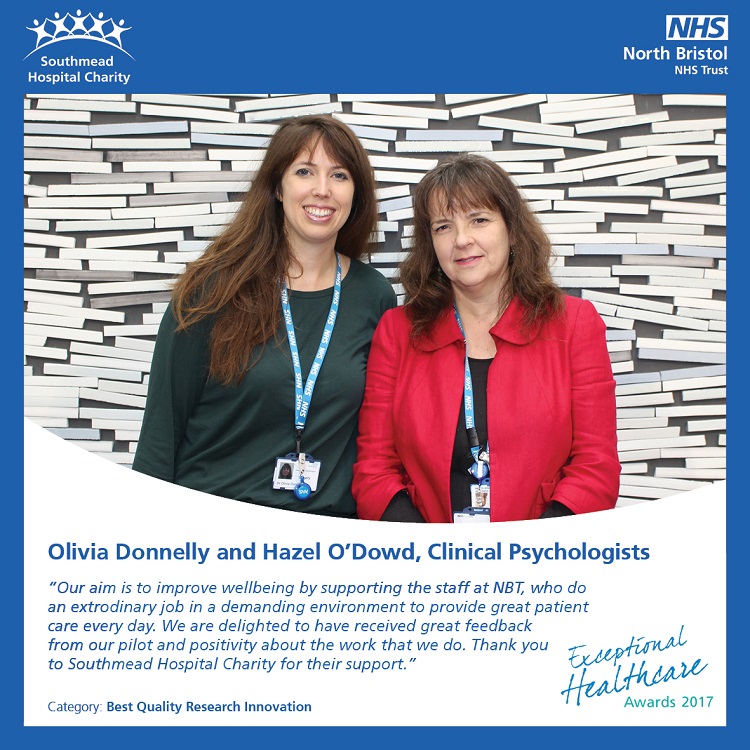 Nikunj Patel, Consultant Neurosugeon
In 2012, Mr Patel undertook the first surgery in the world for Deep Brain Stimulation (DBS) to treat drug resistant hypertension. The patient was followed up for over two years and the results of surgery were sustained. Mr Patel's nomination highlights the translational and collaborative research between healthcare institutions and universities.