Exceptional Healthcare Awards - Inspirational Leader
Exceptional Healthcare Awards - Inspirational Leader
Thursday, 3 November 2016
Final preparations are underway for North Bristol NHS Trust's annual Exceptional Healthcare Awards.
The awards, supported by Southmead Hospital Charity, celebrate the efforts and achievements of some of our outstanding members of staff and volunteers.
In the lead-up to the awards ceremony on November  11 we will be showcasing the shortlisted nominees in every category.
Today we are highlighting those shortlisted in the Inspirational Leader category, which recognises an inspirational and resilient leader whose approach demonstrates a positive and sustained impact on patients and staff .
The shortlisted nominees are:
Rhona Galt, General Manager, Neurosciences
Rhona always leads by example. Staff describe her as an exceptional leader - encouraging, energetic and motivating, her enthusiasm is infectious!  She challenges and supports those she works with to continuously improve their services and deliver better patient care.  
Rhona, who has worked for the Trust for 18 months, said: "I am really excited about being nominated as an inspirational leader. IT is really flattering and I feel like it makes me proud of my team and what we have achieved over the last 18 months and the potential we still have to go further."
Deborah Hacker, Imaging Support Manager, Core Clinical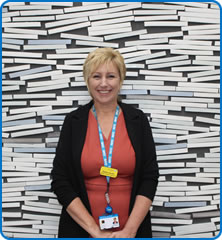 Described as a truly inspirational leader and all round credit to NBT, Debbie is a positive character who is kind, friendly and caring to all those who work with her.  She is a well-respected and popular manager and takes pride in the department and in supporting her 100-strong team. 
Debbie said: "I was surprised and honoured to be nominated for this award, and it was made extra special by the fact I was nominated by members of my team.
"In Imaging we recognise that it is not just the hard work of one person, but the whole team that makes us successful in providing such a high standard of service for the Trust. The dedication of the admin team, porters and ISWs makes managing this team a privilege and pleasure." 
Susan Mcculloch, Deputy Lab Manager, Microbiology Department, Core Clinical
Sue is a strong leader with exceptional team working skills who listens to her staff.
Described as a 'rock for her team', Sue is never afraid to pitch in and to get her hands dirty!  She has supported staff through challenging times including the move of pathology services and works hard to make continuous improvements in Microbiology. The deputy lab manager for microbiology is passionate about her work.
Sue said: "I like to think I lead by example. I have a passion and dedication for the job that the others see and follow.
"I was stunned to be shortlisted, but it is great to be acknowledged."