Exceptional Healthcare Awards - Inspirational Leader
Exceptional Healthcare Awards - Inspirational Leader
Friday, 3 November 2017
There's only one week to go until our annual Exceptional Healthcare Awards.
The awards, supported by Southmead Hospital Charity, celebrate the efforts and achievements of some of our outstanding members of staff and volunteers.
In the lead-up to the awards ceremony on November 10, we will be showcasing the shortlisted nominees in every category.
Today we are highlighting those shortlisted in the Inspirational Leader category, which recognises an inspirational and resilient leader whose approach demonstrates a positive and sustained impact on patients and staff.
The shortlisted nominees are:
Annie Langford, Clinical Matron AMU
Annie has led the AMU through a successful reconfiguration of the unit, and changes in Ambulatory Emergency Care. Annie's nomination discussed how she lifts the spirits of her team with good humour and a willingness to be involved in all aspects of care on AMU.
Joanna Pawlowska, Assistant General Manager (Neurology)
Joanna led the Neurology department through the recent merge of the Neurosciences directorate with MSK. Joanna's nomination highlighted her enthusiasm for improving patient experience and providing an exceptional service.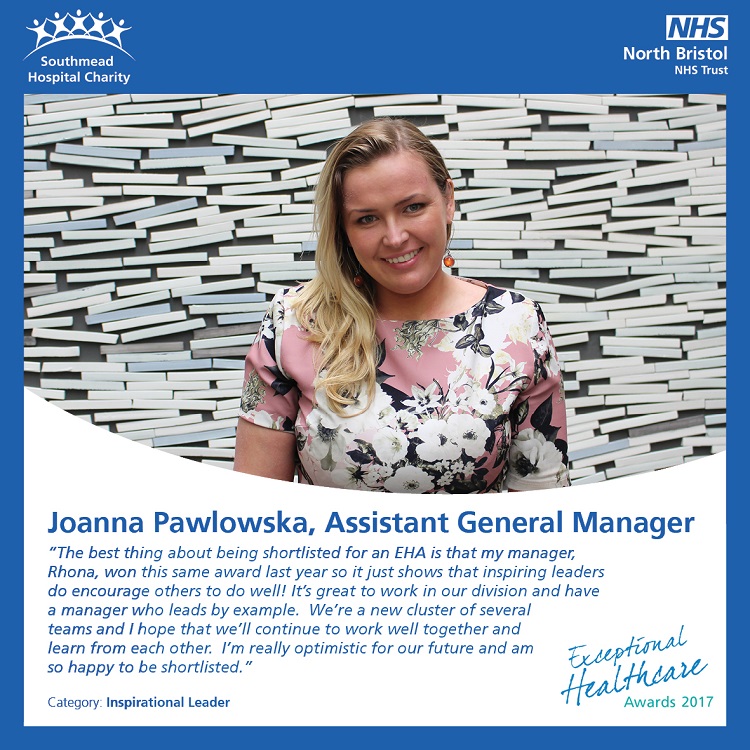 Gareth Wrathall Consultant in Anaesthesia and Intensive Care Medicine
Gareth oversaw the merging of the Intensive Care Units in Frenchay and Southmead, and organised the seamless move of patients into the new unit. Gareth's nomination discussed how he has been pivotal in shaping a cohesive multi-disciplinary team of over 300 staff.