Exceptional Healthcare Awards - Making A Difference
Exceptional Healthcare Awards - Making A Difference
Monday, 9 November 2015
North Bristol NHS Trust is set to honour outstanding members of staff and volunteers in its Exceptional Healthcare Awards.
The 2015 awards, supported by Southmead Hospital Charity, recognise and reward the hard work of staff and volunteers at the Trust.
The awards will take place on Friday, November 20, and in the lead up to the ceremony we will be showcasing the shortlisted nominees in each category.
We start today with the Making a Difference Award, which recognises teams or individuals who have consistently provided excellent customer care to patients, visitors, members of staff or other users.
Liz Williams, HIV Clinical Nurse Specialist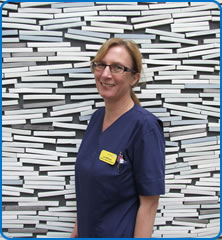 Liz supports people who have been diagnosed HIV positive. Her role involves providing initial support around diagnosis and introducing patients to appropriate services.
She also works within the nurse-led Post Exposure Prophylaxis service, which enables people who think they may be at risk of HIV to access medication.
Liz says an important part of the role, which she has been in for 10 years having started in the outpatient service in 1998, is building relationships – both with patients and services that she can refer them to.
Among the patients Liz supports through her role are pregnant women, who she helps to access antenatal and children's services. In these cases she co-ordinates regular meetings so that their pregnancies and births go as smoothly as possible with the aim that babies are born HIV negative.
There have even been times when women have had no partner or family support and Liz has made sure she is at the birth to provide support to very vulnerable women.
In the nomination Liz was described as "indispensable".
"The patients under her care are incredibly appreciative of her input and often sing her praises and ask for her by name when they come to the clinic," the nomination said.
Liz, who has worked for the Trust for 20 years, was also praised for the support she provides the rest of her team.
She said: "I love my job – it is so rewarding. We have a good team and the patients appreciate what we do.
"A lot of people don't know about our service so it is lovely to have been recognised by being shortlisted for this award."
Helen France and the NGS Macmillan Wellbeing Centre
The NGS Macmillan Wellbeing Centre opened in September 2014 to support people living with and beyond cancer in and around Bristol. It provides a drop-in service for patients looking for advice and information along with courses and complementary therapies.
Since the centre opened in September 2014 more than 1,750 people have used its services.
People affected by cancer who have benefited from the centre frequently tell the team that they "feel lucky to have a lovely place to come to".
Helen's role started before the centre opened in the refurbished Beaufort House and involved planning and developing the service, promoting it, and recruiting the volunteers who support her in running the centre. Volunteers bake cakes, tend the garden and provide complementary therapies, as well as sitting down to talk to the people who pass through the doors.
The nomination said that Helen's ability to "think outside of the box means NBT patients can now access a wide range of support, from complimentary therapies, arts and crafts, yoga, gardening, survivorship programmes, dietetics, financial advice and, all importantly, a listening ear (with a cup of tea and slice of homemade cake).
Helen was also praised for her welcoming and enthusiastic nature and her knack of motivating and inspiring others around her while creating a warm, safe, friendly environment for all.
The service was described as "special and unique", regarded as compassionate and caring by patients carers and staff who come through its doors.
Helen said that cancer takes away the control people have of their lives.
"My team's commitment; passion to help and empathy drive them every single day to try and give just a little bit of that control back, or at least make the burden a little bit easier to bear," she said.
On being shortlisted for the Exceptional Healthcare Awards, Helen said she felt honoured.
"It feels like the icing on the cake of our first year," she added.
"We have a great team and this is great recognition of all their hard work."
Imaging Support Workers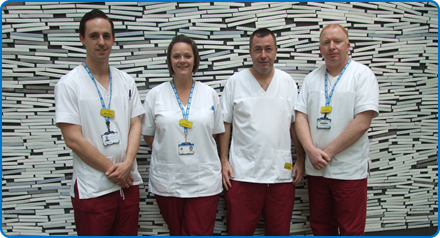 The move to the Brunel building led to the creation of a new role in the Radiology Department at Southmead Hospital.
Imaging Support Workers welcome patients to the department, take them through for their examinations and explain the procedures to them.
The team of more than 40 full and part-time staff was formed from receptionists and Radiology Department Assistants.
They work across the different types of imaging - X-ray, CT, MRI, Ultrasound Nuclear Medicine and Fluoroscopy - and are the first point of contact to the department, providing a helpful and friendly service.
The Imaging Support Worker role has meant a more personal approach for patients, which has received positive feedback, while also freeing up radiographers to focus on imaging which in turn means they can see more patients.
The team's nomination said: "Since moving into the Brunel Building the role of Imaging Support Workers has become essential to the effective running of the Imaging Department but the main beneficiaries have been the patients to whom they are consistently providing an outstanding service."  
Imaging Support Manager, Debbie Hacker, said: "The Imaging Support Worker (ISW) role has become essential to the smooth running of the Imaging Department and the ISW team is delighted, as a group, to be recognised in this way. As the role is still fairly new it continues to develop and the staff show continued versatility in ensuring this happens."