Exceptional Healthcare Awards - Patient Safety Champion
Exceptional Healthcare Awards - Patient Safety Champion
Saturday, 4 November 2017
There is less than one week to go until our annual Exceptional Healthcare Awards.
The awards, supported by Southmead Hospital Charity, celebrate the efforts and achievements of some of our outstanding members of staff and volunteers.
In the lead-up to the awards ceremony on November 10, we have been showcasing the shortlisted nominees in every category.
The fifth category is Patient Safety Champion, which recognises teams or individuals who have improved patient safety and/or reduced risk either in a defined area or across the whole organisation.
The shortlisted nominees are:
Kath Jenkins and the Emergency Laparotomy Collaborative Team
The Emergency Laparotomy Collaborative team were nominated for their improvement work for patients undergoing major abdominal surgery, and for working closely with the care of the elderly team in the post-operative period.
Lucy Kirkham and the Theatre Team
Lucy's nomination discussed how she has led the team and consulted widely with theatres, surgeons and anaesthetists to implement a series of changes. Lucy's work has helped demonstrate to external organisations that our theatres are safe and efficient.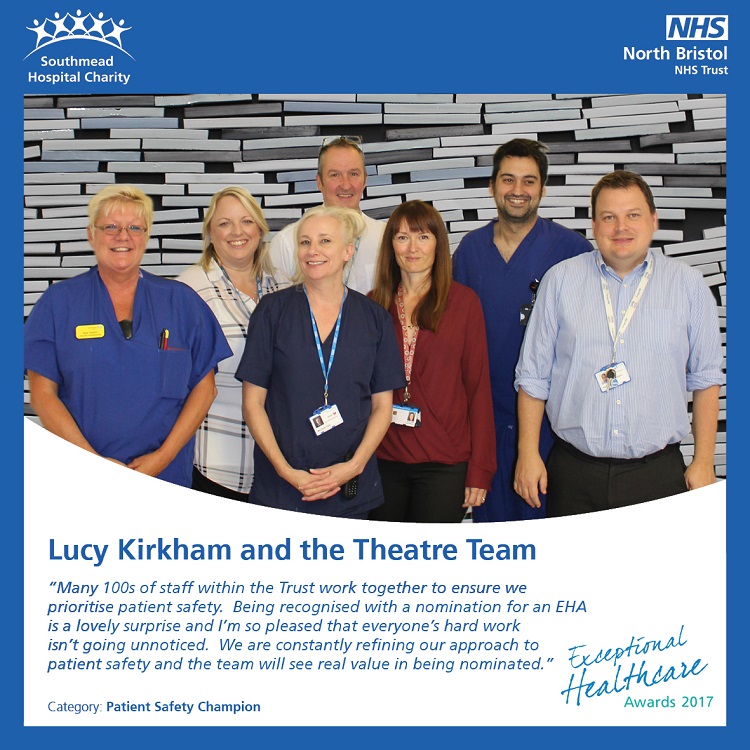 Katie Stevens, Ward Clark, Bath Dialysis Team
Katie's nomination highlighted her sensitivity and compassionate understanding for dialysis patients who rely on dialysis to live. Katie was nominated for going over and above what is expected of her, and for being a patient safety champion.