Exceptional Healthcare Awards - Service Transformation
Exceptional Healthcare Awards - Service Transformation
Monday, 7 November 2016
The countdown is on to North Bristol NHS Trust's annual Exceptional Healthcare Awards.
The awards, supported by Southmead Hospital Charity, celebrate the efforts and achievements of some of our outstanding members of staff and volunteers.
In the lead-up to the awards ceremony on November  11 we will be showcasing the shortlisted nominees in every category.
Today we are focusing on the people who have shortlisted in the Service Transformation Award, which recognises teams or individuals who have introduced a new process or pathway designed to improve the patient journey.
The shortlisted nominees are:
Sue Mallett, Ward Sister, 7A Neurosciences
Sue is a 'can-do lady' for whom caring for patients is at the heart of everything that she does.
She has led her team through a time of considerable change and was credited for her role in integration of the regional acute Stroke service with the regional acute Neurology service, which transformed both services.
Sue said: "I always appreciate positive comments received from colleagues, patients and families regarding Gate 7A, and I am delighted to receive this personal recognition.
"I want to thank those people, particularly my team on Gate 7A, who have made it possible for me to develop in my role. They have given me support when I have sought to progress with various initiatives - all fuelled by my sole aim to provide excellent patient care."
Nicola Stirling, Occupational Therapist, Brunel, Core Clinical
Nicola is a consistently inspiring professional who has led major improvements for the care of patients with dementia on complex care wards. Her work as the lead clinician for the Meaningful Activities Project pilot supported the culture of person-centred care for patients by providing cognitive stimulation to support their physical, sensory and psychological wellbeing, making it a part of everyday care and treatment.
Nicola said: "It was really amazing to be shortlisted.
"To get recognition feels like my hard work is paying off and that people are listening you and it does make a difference. I am really proud and a little bit overwhelmed.
"This is just me doing my job. It is nice to share my knowledge and skills as an Occupational Therapist."
Janet Dean and the Speech and Language Therapy Outpatient Team, Brunel and Cossham Hospital, Core Clinical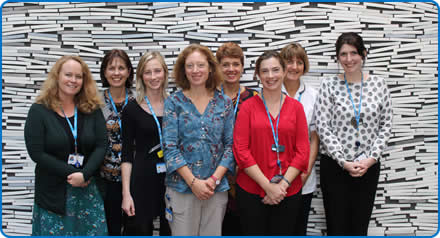 The outpatient Speech and Language Therapy team transformed its service for people with communication and swallowing difficulties to meet the demand of a 22% increase in the number of patients being referred over the last five years.
The team used approaches and therapy- based on evidence and research to identify possible ways to become more efficient and productive, without impacting on the patient experience.
Janet said: "We are delighted to be shortlisted. The team are motivated to provide a high quality and timely service to people with communication and swallowing difficulties. This has helped us all to engage creatively with changes to the service to achieve the best results"