Exceptional Healthcare Awards - Service Transformation
Exceptional Healthcare Awards - Service Transformation
Monday, 6 November 2017
The countdown is well and truly underway with less than a week to go until our annual Exceptional Healthcare Awards.
The awards, supported by Southmead Hospital Charity, celebrate the efforts and achievements of some of our outstanding members of staff and volunteers.
In the lead-up to the awards ceremony on November 10, we have been showcasing the shortlisted nominees in every category.
Today we are focusing on the people who have been shortlisted in the Service Transformation Award, which recognises teams or individuals who have introduced a new process or pathway designed to improve the patient journey.
The shortlisted nominees are:
Sally Cownie and the Alcohol Specialist Nurse Team
The Alcohol Specialist Nurse team work across the hospital to help enable swift discharge, and link with community agencies, as well as organising online learning modules for detoxification and early identification of alcohol misuse. The team were nominated for going above and beyond their normal expectations to assess patients with alcohol related issues.
Natalie Ferris, Lisa Ford and the Surgical Assessment Team
The Surgical Assessment team play a critical role in the emergency flow of surgical patients into the Trust from a variety of different pathways. The team's nomination discusses how they have reduced the number of patients being diverted through the Emergency Department, as well as the number of GP referrals requesting an inpatient bed.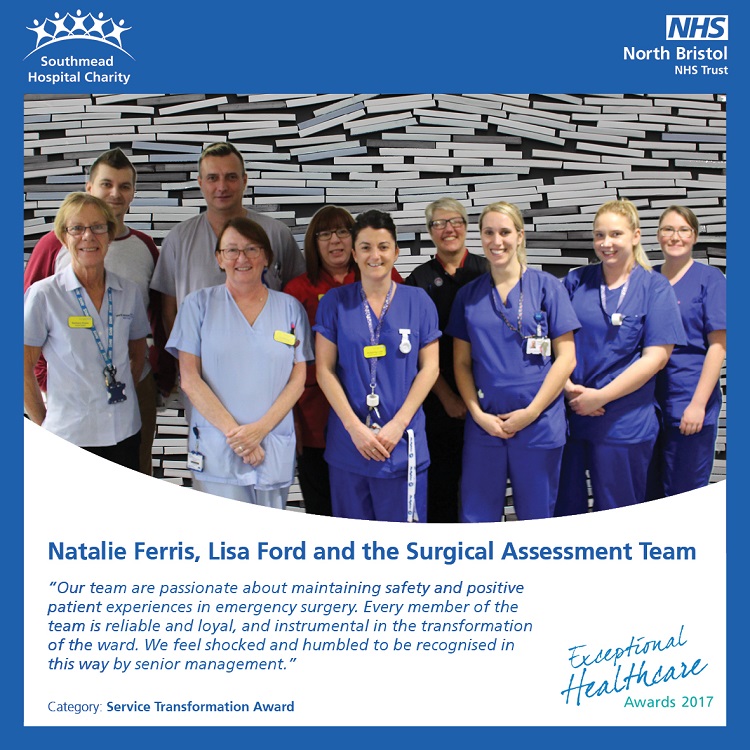 Helen Madden, Motor Neurone Disease Care Coordinator
Helen's nomination highlighted how she has transformed the Bristol Motor Neurone Disease service into being one of the best in the UK. Helen has also led a new education programme for professionals in primary, secondary and community care, focusing on improving patient experience and enabling safe care at home which has been enormously well received.