Exceptional Healthcare Awards - Team of the Year
Exceptional Healthcare Awards - Team of the Year
Thursday, 9 November 2017
There's not long to go until this year's Exceptional Healthcare Awards.
The awards, supported by Southmead Hospital Charity, celebrate the efforts and achievements of some of our outstanding members of staff and volunteers.
In the lead-up to the awards ceremony on November 10, we will be showcasing the shortlisted nominees in every category.
Today we are highlighting the shortlisted nominees in the Team of the Year category, which recognises a team or ward that provides an exceptional service as a result of team working.
The shortlisted nominees are:
Joe Philip and the Bristol Lithotripsy Unit
The Stone Unit has streamlined and progressed the evaluation and care for patients with painful kidney stones. This involved setting up an emergency shock wave lithotripsy service with identified patients being treated on the day of admission. The team's nomination highlighted how they have been recognised locally and regionally for their cohesive and dynamic approach to treat these patients efficiently, and in the shortest time possible.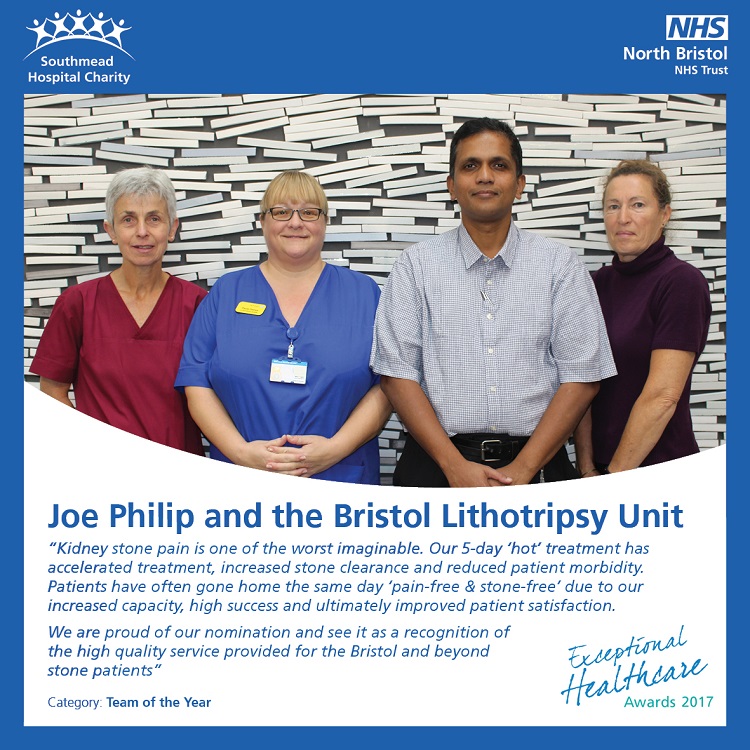 Samuel Wadham and the Cancer Services Team
The Cancer Services team has led the process in managing tertiary pathways to ensure that patients from across the region can receive high quality treatment in line with national waiting time standards. The team's nomination discussed their dedication and commitment in ensuring that recent pathway changes have been managed both safely and to a high standard.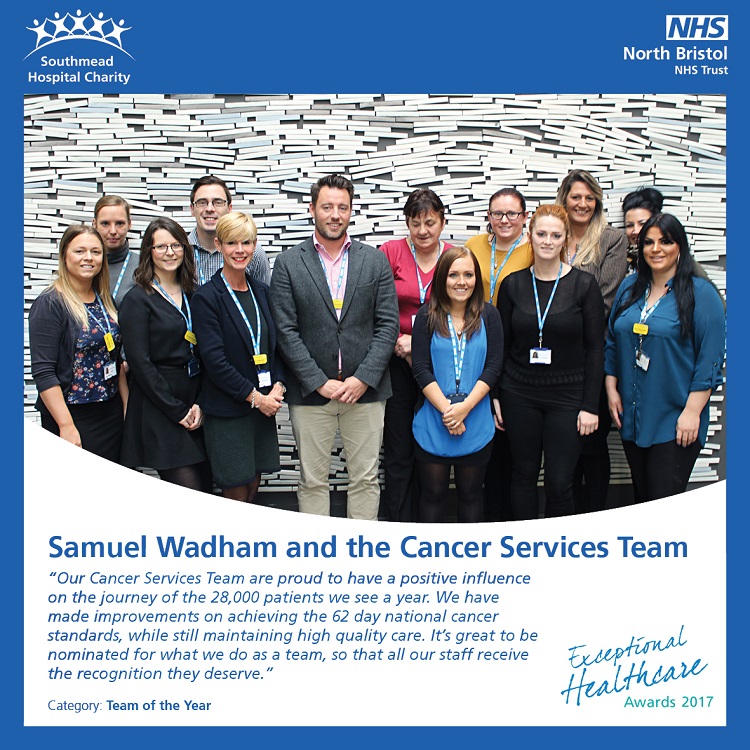 Gareth Wrathall and the ICU Coastal Challenge Team
Gareth and his team of colleagues have worked on planning, organising and embarking on a fundraising event, walking the entire South West coastal path to raise money for a safe outside space for ICU patients. Gareth and the team's nomination highlights their exceptional motivation and organisation.