Exceptional Healthcare Awards - Unsung Hero
Exceptional Healthcare Awards - Unsung Hero
Tuesday, 7 November 2017
There are just days to go until our annual Exceptional Healthcare Awards.
The awards, supported by Southmead Hospital Charity, celebrate the efforts and achievements of some of our outstanding members of staff and volunteers.
In the run up to the awards ceremony on November 10, we will be showcasing the shortlisted nominees in every category.
Our next category is for the Unsung Hero award. This recognises an individual who has gone the extra mile and has shown effort and commitment to the job over and above what is expected of them.
The shortlisted nominees are:
Charlotte Brooks and Steph Ellis, Bristol Communication Aid Service (BCAS) Assistant Practitioners
Charlotte and Steph are part of the multi-disciplinary team that completes assessments for people living in the South West for people with severe communication difficulties that require equipment to interact. Their nomination recognised how they have made a huge difference to the productivity and effectiveness of the team.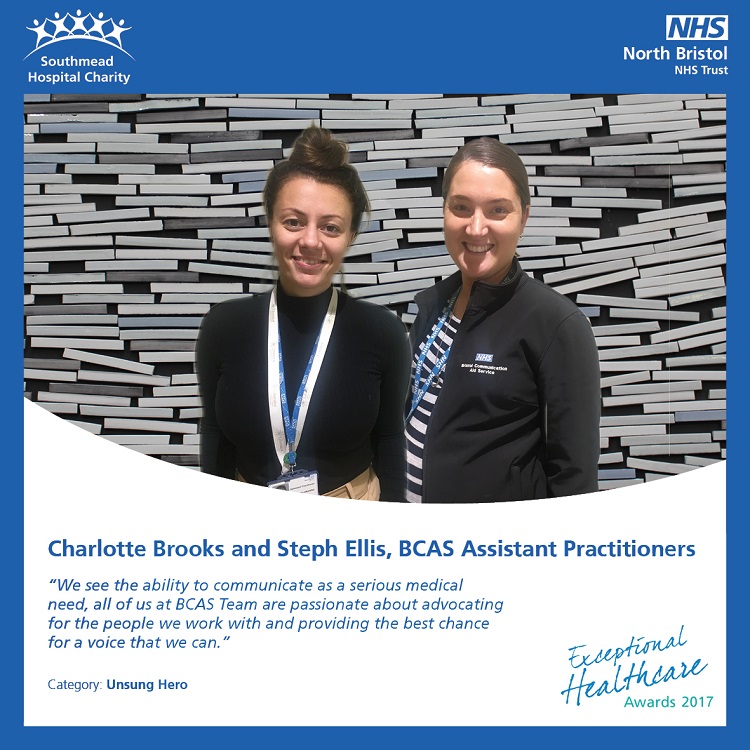 Paul Davies, Equipment Supervising Officer
Paul repairs and locates equipment for teams. His nomination highlighted how he has saved the Trust a lot of money by ensuring that items are not disposed of when they could be re-used or repaired. The nomination talks of his friendly, can-do attitude that is always commented on by the diverse teams of people who he helps.
Gail Kemp, Cancer MDT and Performance Manager
Gail has worked on ensuring the Trust has complied with all national cancer data quality standards and has improved cancer performance. Gail's nomination discussed how she continues to strive to improve, and has a positive outlook and disposition that has maintained the morale and productivity within the cancer services team.