Exceptional Healthcare Awards - the winners
Exceptional Healthcare Awards - the winners
Wednesday, 16 November 2016
The efforts and achievements of some of our outstanding members of staff were celebrated on Friday (November 11) with the Exceptional Healthcare Awards 2016.
The annual awards, supported by Southmead Hospital Charity, honoured staff and volunteer teams and individuals for the difference they have made to patients in 11 categories.
The awards, which were hosted with the support of sponsors, recognised staff for providing excellent care, coming up with new innovations, improving patient safety, transform patient services and experiences and those who go the extra mile.
The 150 nominations were initially whittled down to a shortlist of 31with the winners in each category announced at the ceremony.
The winners were:
Making A Difference: Helen Merry, Hearing Therapist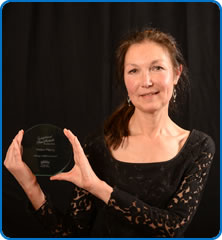 Helen supports inpatients who are hearing impaired. Her nomination highlighted her kindness, professionalism, expertise and positivity
She said: "It's such a privilege and an honour to receive this award and it's such a privilege to work with such a wonderful team in speech and language therapy.
"The wards are just fabulous and everyone wants to help hearing impaired people and they just need some guidance and extra knowledge to support patients.
"I think people take hearing for granted until something goes wrong. Everyone should think hearing." 
The other shortlisted nominees were the Head Injury Therapy Unit and South Bristol Dialysis Unit Receptionist Jackie Rogers.
Best Quality Research or Innovation: Cardiology Research Specialist Nurse Nicola Manning
Nicola's commitment to providing evidence-based care means she is the first port of call when doctors want to carry out research or audit projects.
She said: "It feels amazing. I was really surprised to win because I was up against such amazing teams. I am really surprised but really, really thrilled."
The other shortlisted nominees were: The Patient Flow Team and the Chronic Fatigue Syndrome Service.
Supporting Southmead Hospital: Volunteer Patient Feeder and Befriender Cindy Box and the Move Makers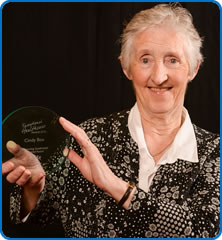 Cindy Box first started volunteering with the Trust when she was 15, helping out on Ward 30 – burns and plastics – at Frenchay Hospital before becoming a clerical officer at the hospital, and now she is a volunteer again.
She said: "I love what I do and do not expect to be singled out. Everyone does such a great job.
"I find it very rewarding, I feed dementia patients their breakfast and also help on the vascular ward. It makes me realise how lucky I am."
The Move Makers are volunteers within the Trust's hospitals and were nominated for being professional, approachable, happy, willing, enthusiastic, helpful, caring and compassionate.
Move Maker, John Allen, said: "We are delighted to accept the award on behalf of all 120 Move Makers.
"We don't do it for the acknowledgment, we do it because we enjoy helping others and we know it makes a difference to the experience patients get when they visit the hospital."
Move Makers Manager, Jill Randall, added: "I'm very proud of my team and so proud they give so much help to people."
The other shortlisted nominee was Volunteer Driver Keith Wilcox.
Inspirational Leader: Neurosciences General Manager Rhona Galt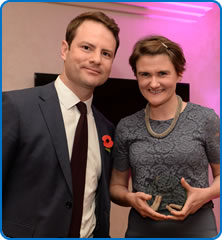 Staff describe Rhona as an exceptional leader - encouraging, energetic and motivating, with infectious enthusiasm. 
She said: "It feels fantastic. I'm really excited
"I'm really pleased with all the things my team has achieved in the last two years and feel excited about what more we can do."
The other shortlisted nominees were Imaging Support Manager Deborah Hacker and Microbiology Deputy Laboratory Manager Sue McCulloch
Patient Safety Champion: Patient Safety Medicines Management Team
The team's efforts to improve patient safety in medicine management have been recognised in a Pharmaceutical Society Fellowship.
Principal Pharmacist Jane Smith said: "It's amazing. It's wonderful to have this recognition from the Trust.
"I do feel sorry for Ben and the ED team and Nicola Stirling. Everybody deserved it, everyone is doing such good work."
The other shortlisted nominees were Lead Diabetes Nurse Specialist Nikki Davies and the Emergency Department.
Service Transformation Award: Sue Mallett, Ward Sister 7A
Sue has led her team through a time of considerable change and was credited for her role in integration of the regional acute Stroke service with the regional acute Neurology service
She said: "I'm absolutely delighted. I didn't expect it. I was very nervous and very excited.
"I am very proud. I have to say thank-you to my team - 7A and neurosciences - if it wasn't for them I would not have achieved what I have achieved."
The other shortlisted nominees were the Speech and Language Therapy Outpatient Team and Occupational Therapist Nicola Stirling
Unsung Hero: Staff Development Administrator and Volunteer Kim Clements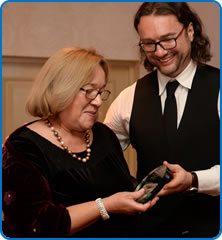 Kim was credited for her amazing commitment to her role, both as Learning & Development administrator but also volunteering as a patient befriender, supporting patients at mealtimes and teaching families of babies in the Neonatal Intensive Care Unit to knit.
She said: "I'm very proud, I'm very honoured and humbled.
"I enjoy doing the things I do, that's why I do it. And I love it knowing I've helped other people."
The other shortlisted nominees were Homecare Clerical Officer Amy Redman and Bristol Brain Centre Cleaners Alison and Jennifer Thornton
Best Improvement in Patient Experience: The Emergency Department Bereavement Team
The team is a voluntary service formed by ED Nurses who support the families of patients who unexpectedly pass away whilst in the department.
ED Sister Kate White said: "We were honoured and really privileged to be nominated, but to win in such a strong category is just amazing. We are here representing the whole Emergency Department.
"What we do is crucial. Unfortunately often when people die in the department it is a sudden, unexpected death and we have established this service to fill a gap for the relatives, following up with them after they leave and helping to provide and direct them to support services."
The other shortlisted nominees were the Mental Health Liaison team and the Medirooms Team
Team of the Year: Sterile Services
The Sterile Services (SSD) team have had an extremely testing few years but have pulled together, overcome and excelled
Facilities Assistant General Manager , Paul Jenkins, said: "I genuinely wasn't expecting to win.
"The team has been through so much in the last seven years and this has just topped it off."
The other shortlisted nominees were the MRI Scanning Team, the Robotic Surgery Team and the Bristol Breast Care Centre
Rising Star: Physiotherapist Kate Tyler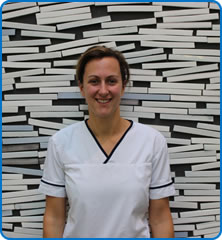 Kate was described as a truly inspirational member of staff, who has a true passion for her profession and strives to improve the life of all patients who she comes into contact with.
She was unable to attend the ceremony and her award was collected by colleagues on her behalf.
Kate said: "It is an absolute honour to have won the Rising Star Award.
"I love my job and it is great to have this recognition. I am just disappointed I could not be there on the night to pick up my award."
Chief Executive Award: Bristol Breast Care Centre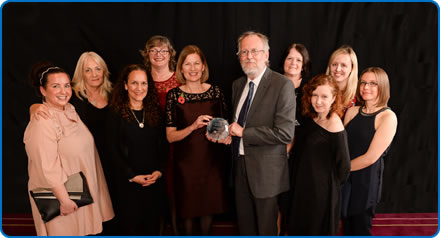 Chief Executive Andrea Young chose the recipients of this special award for a team who had achieved "something remarkable".
Introducing the award, she explained that the team had met challenges with outstanding mutual support.
Clinical Lead, Mike Shere, said: "We weren't expecting this
"We have had some personal tragedies in our team and it brought a tear to my eye to hear Andrea Young speak about us and think of my colleagues.
"I don't think I ever thought our team wouldn't rally around and focus on patient care at difficult times."
Director of Avon Breast Screening, Alexandra Valencia, added: "This is very lovely for the team, I think they deserve it. It's a great team, with hard-working resilient members within it."
North Bristol NHS Trust Chief Executive, Andrea Young, said: "Our Exceptional Healthcare Awards are a chance to celebrate the very best of care we provide across the Trust, whether at Southmead Hospital, Cossham, or in the community.
"I am proud to lead an organisation with so many exceptional people who do such a great job in providing high quality patient care every single day.
"As judges we had a tough time deciding on the shortlist and winners because the standard was so high. Well done to everyone who was nominated, and a huge round of applause to our winners."
The Exceptional Healthcare Awards ceremony at the Bristol Hotel was hosted by presenter Will Glennon for the second year.
He spoke of the care he received at the Trust after a cycling accident and expressed his gratitude for the care he received, telling the audience that it is the staff that make the hospital what it is.
Will said: "The Exceptional Healthcare Awards is such an inspiring event, I loved being part of it again.
"I was on a table with some of the nominees and to hear some personal stories about what really goes on at the hospital is great."
Will was announced as an Ambassador for Southmead Hospital Charity, who supported the awards, during the ceremony.
Liz Bond, from Southmead Hospital Charity, said: "We were delighted that Southmead Hospital Charity was able to support the Exceptional Healthcare Awards 2016.
"We know how important it is to celebrate the hard work of staff across North Bristol NHS Trust, and as the Charity we are delighted to be able to support this event. Thanks to the generous support of our sponsors for enabling us to host this event.
"Well done to everyone who was nominated and shortlisted and to all the winners on the night."