First Southmead Hospital housekeepers complete apprenticeships
First Southmead Hospital housekeepers complete apprenticeships
Friday, 29 January 2016
The first Southmead Hospital housekeepers have completed apprenticeships in healthcare support services.
Housekeepers are familiar faces on the wards at the hospital, supporting healthcare staff, monitoring stock, helping with patient nutrition, meals and ensuring they are hydrated.
Now more than 50 of the hospital's ward housekeepers have followed developing their skills by undertaking apprenticeships – with North Bristol NHS Trust understood to be the first to offer this to housekeeping staff.
Christina Bowring and Louise Hine were the first to receive their certificates for completing the apprenticeships and have been followed by five more groups of housekeeper apprentices.
Some of the Southmead Hospital housekeepers are now training as Healthcare Assistants as a result of the experience.
Christina has worked at the Trust for three years and was previously an auxiliary nurse.
She said: "We get quite a lot of patient contact and get to know the patients quite well as we tend to cover the whole ward.
"We know that the patients appreciate seeing our friendly faces and we can also help and engage with them. We do whatever we can for our patients here."
Louise joined the Trust just before the move to the Brunel building.
She said: "It was a bit daunting being the first to do this, but I'm glad I've done it.
"Because I was quite new to the role it meant I got to learn things I didn't know about.
"I didn't think I could do anything like this before, so it was nice to have the opportunity."
Christina added: "It's great to have a valued and recognised qualification and good to have the key skills, because you need English and Maths for whatever you do."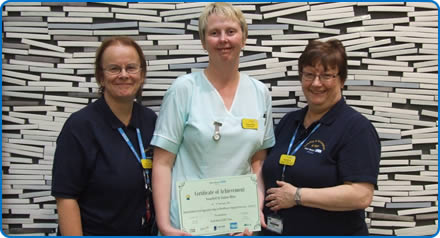 The housekeeper apprenticeships have been assessed by Kay Byrne and Mary Viner, who both have had their own experience of working their way up from being Healthcare Assistants and using opportunities to develop themselves and their skills before switching to their training roles.
Mary added: "It's almost like you see them grow like a little plant. Some of them are quite shy when they start but doing this has helped them to believe in themselves.
Kay Byrne said: "All of the housekeepers are really passionate about their jobs and they're passing on their experience to the other housekeepers.
"The Trust invests in people no matter what job they do. I think we might be the only NHS Trust offering apprenticeships to housekeepers
"It was nice to see the first housekeepers complete their apprenticeships, I feel very proud."
Among the areas covered in the apprenticeship in support services are health and safety, communication and infection control.
North Bristol NHS Trust is a leading organisation for the education and training of healthcare and hospital staff with active programmes for apprentices, work experience and helping people get back into work as part of a partnership with Job Centre Plus.
Last month the Learning and Development Team held an awards ceremony with Trust Chief Executive Andrea Young on hand to present scrolls and certificates to staff who had completed a host of qualifications.
More than 40 members of North Bristol NHS Trust staff, including the housekeeper apprentices, were honoured for achieving awards ranging from the Certificate in Employability Skills through to Masters in Coaching and Development.