Free artwalk and workshop at Southmead Hospital
Free artwalk and workshop at Southmead Hospital
Tuesday, 21 March 2017
This Saturday (25 March) 'Paintings in Hospitals' and Fresh Arts are hosting a free artwalk and workshop at Southmead Hospital.
The artwalk takes in some of the many exhibitions on display at Southmead, including some behind-the-scenes exhibits. The collection is made up of many different types of art, including photographs, prints and paintings. 
After the tour you are invited to try your hand at the techniques used to create these artworks in an informal workshop; all materials and refreshments are provided, and no experience is necessary.
The artwalk starts at 1pm in the Brunel Building at Southmead Hospital. You can book your place here.
Fresh Arts is our Trust-wide arts programme, which exists to enhance our patients' experience and improve morale.  Our exhibition programme ensures there is a constantly changing, lively backdrop to much-used spaces throughout the year.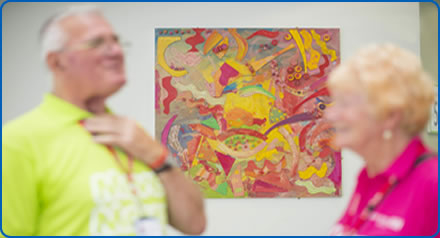 There is now considerable evidence that participating in the arts and having access to artworks can significantly improve mental and physical health. Recent clinical studies* have concluded that having artworks within a hospital, for example, can:
·         Reduce levels of anxiety, stress and depression
·         Reduce patients' length of stay within the hospital
·         Reduce the use of some medications
·         Improve communication between patients and healthcare professionals.
Find out more about our Fresh Arts programme.
*Taken from 'A Study of the Effects of Visual and Performing Arts in Healthcare' completed by Chelsea and Westminster Hospital from 1999 to 2002.