Gloucestershire cricketers join Run for the Future to support prostate cancer research
Gloucestershire cricketers join Run for the Future to support prostate cancer research
Thursday, 15 September 2011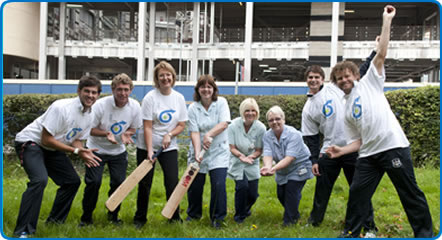 Gloucestershire County Cricket Club players are showing their support for Run for the Future by visiting patients at Southmead Hospital ahead of the event on Sunday.
Cricketers Hamish Marshall and Ed Young will both be taking part in the 5k run on the Durdham Downs, in Bristol, this Sunday September 18.
And on Friday players from Gloucestershire County Cricket Club met nurses in the urology department to urge people to sign up for Run for the Future 2011 to raise money for prostate cancer. 
The event  raises funds for research into prostate cancer at The Bristol Urological Institute at Southmead Hospital.
The event, organised by Rotary in Bristol, has already raised almost £200,000 since it began six years ago.
Participants can run, walk or jog the course and you can sign up on the day.
Run for the Future has also raised awareness of prostate cancer and the availability of PSA blood tests to detect the disease.
GCCC Cricketer Hamish Marshall, who will be taking part in the run on Sunday with fellow GCCC player Ed Young, said: "We are proud to support such an important cause and help raise the profile of this disease and how vital recognising the symptoms and getting checked out is.
"Run for the Future is a great event for people to get active and have fun while helping to raise funds for ground-breaking research into prostate cancer in Bristol."
Race organiser Martina Peattie said: "It's great to have the support of such a prestigious team like Gloucestershire Cricket Club for Run for the Future.
"The event has had lots of support from sporting personalities and teams over the years which underlines how important it has become for Bristol.
"It's not too late to take part as you can sign up on the day and help raise lots of money for prostate cancer research in Bristol."
Free PSA tests will be on offer for men at the event, carried out by Spire Hospital The Glen.
Facts about prostate cancer:
Every year 35,000 men are diagnosed with prostate cancer in the UK and over 10,000 men die from the disease.
Symptoms can include problems passing urine, lower back pain, pain in the hips and pelvis and occasionally blood in the urine, although this is rare. It is important to remember that not everyone with prostate cancer gets symptoms.
The Prostate Specific Antigen (PSA) blood test can give an early indication of prostate cancer before symptoms occur. Only eight per cent of men request this test from their GP.
Anyone with any concerns about their prostate, particularly men above 50 or those above 45 with a family history of prostate or breast cancer, should see their GP to discuss a free PSA test.
Black, and especially African Caribbean, men are three times more likely to get prostate cancer than white men.