Green Impact launch
Green Impact launch
Thursday, 15 October 2015
As part of Healthy City Week, North Bristol NHS Trust (NBT), along with colleagues from University Hospitals Bristol NHS Foundation Trust (UH Bristol) and local GPs launched Green Impact earlier today.
This is a staff award scheme designed to recognise and celebrate all the fantastic things NHS staff are doing to promote happy, healthy and sustainable lifestyles across the healthcare service in Bristol.
The Green Impact Awards engage and reward NHS staff who adopt healthy and sustainable measures within the delivery of their services to improve the overall health and wellbeing of their organisations and reduce their impact on the environment and local communities. 
Simon Wood, Director of Facilities and Sustainability Lead at NBT, said: "The healthcare service in Bristol has a significant impact on the environment ranging from the amount of energy and water we use, to the way we travel and move our patients, through to the food we serve. 
"There are such strong links between sustainability and health and wellbeing that we hope that by raising awareness amongst our staff through the Green Impact scheme, we can promote health and wellbeing through sustainable lifestyle choices and reduce our impact on the environment at the same time."
The Green Impact Award scheme is made up of easy and straight forward actions that NHS staff can take to achieve bronze, silver and gold awards.
Actions can be as simple as remembering to turn the lights off and close the doors when you leave a room to organising a team "bring and share" healthy lunch.
The award criteria for NBT was developed with the help of staff who identified what was important to them and what they would like to be able to see and do as part of the scheme.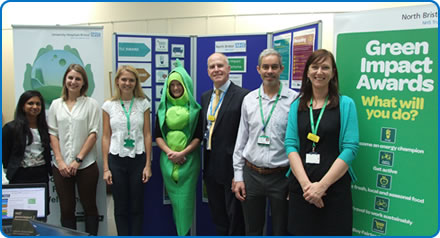 A special Green Impact award ceremony will be held next summer to reward and celebrate staff who have achieved bronze, silver and gold awards respectively.
Healthy City Week Bristol runs from October 10-18 and is part of the Bristol Green Capital programme.
The week aims to inspire citizens of Bristol to achieve healthier lifestyles as part of a more sustainable future city. With over 100 talks, workshops, activities and exhibitions over 9 days, Healthy City Week Bristol explores the links between health and sustainability.
Promoting current sustainability and healthcare initiatives and projects that are designed to help us stay well, get well and live well, Healthy City Week's dynamic programme aims to raise awareness of the many links between our personal health and the health of our environment, both locally and globally. View the full programme at www.bristolgreencapital.org/healthycityweek