Here come the girls, meet the Cossham Birth Centre midwives
Here come the girls, meet the Cossham Birth Centre midwives
Friday, 11 January 2013
Midwives are preparing for the due date of Bristol's first midwife-led freestanding birth centre.
The team of 10 midwives and 5 maternity care assistants are in place to deliver the first babies to be born at the new Cossham Birth Centre, which opens on January 28.
Situated on the top floor of the newly refurbished Cossham Hospital, it will be the first free standing birth centre in the area where healthy women with a straightforward pregnancy in Bristol and South Gloucestershire can give birth.
The refurbishment of Cossham Hospital, which was opened in 1907, was undertaken by NHS South Gloucestershire, and services at the hospital will be run by North Bristol NHS Trust.
The birth centre's four birthing rooms each have a pool offering all women the opportunity to use water for labour and birth as well as additional birthing aids to support the natural process of childbirth.
The rooms are comfortably furnished with double beds, sofas and en-suite facilities to provide a homely and intimate atmosphere.
Aromatherapy will be available to help women relax and relieve symptoms during labour.
For fathers/partners, there are overnight stay options with open kitchen, bathroom and visiting facilities.
The Cossham Birth Centre project grew from the Birth Centre Bristol campaign, started by midwives in 2001 to establish one or more NHS Birth Centres.
Hundreds of women from across Bristol supported the campaign and a petition was presented to the local PCTs in 2005.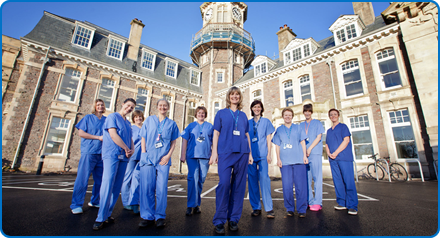 Cossham Birth Centre is part of an important drive to offer women more choice in where and how they can give birth and in promoting natural childbirth for women with uncomplicated pregnancies.
Gina Augarde, lead midwife for Cossham Birth Centre, said: "Our team of midwives are in place and we are all really excited to begin work in this fantastic birth centre.
"We are so pleased with the design, and feel it is a real home from home setting with great facilities for the women and their partners
"As a midwife it is always a real privilege to be part of the special moments when parents welcome a new life into the world, and Cossham Birth Centre will enable midwife-led natural childbirth to offer a hugely positive experience for them."
For more information, visit the Cossham Birth Centre webpages.