Home is best - a message from our Director of Nursing, Sue Jones
Home is best - a message from our Director of Nursing, Sue Jones
Wednesday, 8 February 2017
Here at Southmead, like most other hospitals, we are busy.
We have seen unprecedented demand from patients who are unwell and need our care.
Winter is typically busy in hospitals and we make plans in advance to help us manage as best we can during this period. However, the last few weeks have been busier than we had expected, not just for us, but for hospitals across the country and in services that support us to discharge or transfer patients in our local community.
The focus of headlines may have been on pressure within A&Es but while the emergency areas within our hospital may be the front door, for many of these patients the whole hospital has been busy as a result of this increased demand.
The one thing that has struck me during these few weeks has been the care and compassion patients have received from our staff who are working extremely hard  to ensure that our patients are safe and receiving the very best care during these challenging times.
I regularly walk the wards and departments around the hospital to see how things are going. This is especially important at busy times and I am proud of our staff and the way they have been continuing to provide safe care even when faced with increased demand.
The sense of teamwork not only from the medical and nursing teams and therapists but also our incredible support staff including porters, cleaners, receptionists and our volunteers is amazing, very much the NBT (North Bristol NHS Trust) way and expressed by many patients who speak to us, write in or post their experiences on NHS choices and share their views on Facebook and Twitter.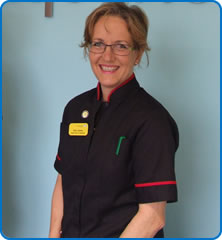 When we are busy there may be times when you are waiting longer to be seen than we would like or you may be queueing for a bed. When this happens we will make sure you are comfortable and that appropriately trained staff are looking after you.
Everyone has been doing their bit and that is what has meant we have managed to keep running our services with minimum disruption to patients despite being so busy.
Some of you may have had your outpatient appointment rescheduled so that teams could support their colleagues in other parts of the hospital and in a small number of cases we also rearranged operations due to the demand on beds within the hospital.
We know this can be frustrating but please understand we only do this when it is the safest option for everyone in our hospital and always aim to get you booked in again as soon as possible. 
You can do your bit by helping friends and relatives to leave hospital when they are well enough. Sometimes older or more vulnerable people spend longer in hospital than they need to because they need support at home or a package of care. If you can support a family member to get home, from supporting transport home, to thinking about caring for them for a few days in advance of a package of care starting please let us know.     
The evidence shows us that home is best, long stays in hospital can lead  to a loss of independence, loss of muscle strength and make it harder, particularly for older patients to get to the best place for them – their own home.