Innovations recognised in national awards shortlist
Innovations recognised in national awards shortlist
Monday, 16 January 2017
Innovations at North Bristol NHS Trust have been recognised with teams being shortlisted in two categories of the national HSJ Value in Healthcare Awards.
The Severn Major Trauma Network, hosted by the Trust, has been shortlisted in the Emergency, Urgent and Trauma Care category of the awards for a project that is improving the experience of its patients.
An Enhanced Care project to reduce the reliance on agency Healthcare Assistants has also been shortlisted in the Workforce Efficiency category.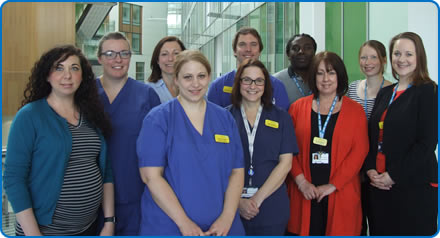 The Major Trauma Centre at Southmead Hospital sees approximately 1,300 patients a year with multiple injuries. These patients will have sustained potentially life-threatening or life-changing injuries with several different teams of specialists being involved in their care. Many of them will require support from different experts and specialists to support their ongoing rehabilitation and care after they leave the hospital.
The Quality Trauma Discharge Package helps patients feel more in control of their healthcare needs after they leave Southmead Hospital and has been shown to reduce the need for visits to GPs by 20 per cent.
The aim is now to roll out Quality Trauma Discharge to the other Major Trauma Networks nationally following its success in the Severn region – Bristol, Gloucestershire, Somerset and parts of Wiltshire.
Quality Trauma Discharge starts before patients leave Southmead Hospital with a consultation with a key worker from the Major Trauma Team.This is an opportunity to discuss their ongoing needs and appointments as well as give advice about how to avoid complications and manage their injuries.  A pharmacist also provides advice and education to the patients on any drugs that they will take once they are discharged.
An online package is created to provide a unique record for each patient, outlining what procedures they have had, their  rehabilitation needs and details of follow-up appointments. It also includes a function to send messages directly to the major trauma team if a patient has any queries.
The final part of Quality Trauma Discharge is a follow-up call from the key worker two weeks after discharge from the hospital to check on progress and see if patients have any questions.
Anaesthetist and Intensive Care Consultant, Reston Smith, said: "Through talking to our patients we identified a need for a more co-ordinated discharge process to improve their experience.
"Since we launched our Quality Trauma Discharge initiative our patients have required fewer unplanned GP appointments following discharge and we have found that our patients feel much more in control of their rehabilitation and recovery.  
"We know this has made a real difference and believe that rolling this process out nationally would be of huge benefit to trauma patients and clinicians alike. We are thrilled that this has been recognised by the project being shortlisted in the HSJ Awards."
An Enhanced Care project has seen the Trust make significant reductions in the cost of using agency Healthcare Assistants.
As well as saving the Trust more than £800,000 the project has improved the experience of patients.
The project was launched as part of a 90-day innovation programme in September 2015 involving 12 Trusts. This put one-one care in four wards at Southmead Hospital under the spotlight and enabled the steering group to see how this care could be provided in a way that was more efficient and beneficial to patients.
Additional Healthcare Assistants were recruited to both substantive posts and to the temporary staffing bank. They were given training to enhance both patient safety and experience, encouraging them to carry out meaningful activities with the patients alongside their physical care.
This also linked with the work within the Trust to reduce agency spend in line with the NHS Improvement rules. Following the success of the pilot, the enhanced care programme was rolled out across the Trust and the use of agency HCAs has reduced to zero since July 2016.
Deputy Director of Nursing at North Bristol NHS Trust, Sarah Dodds, said: "The Enhanced Care Project has made a meaningful difference to our patients and their relatives as well as making significant cost savings for the Trust through a complete reduction in the use of agency HCAs.
"Our HCAs feel more valued because they now have the skills to provide the right support when they are caring for patients.
"We could not have envisaged just how successful this would be when we started, but with the hard work of everyone involved in the project we really have made a difference. We are so excited that this has now been recognised by the HSJ in shortlisting us for this award."