Jeremy Corbyn visits cancer centres at Southmead Hospital
Jeremy Corbyn visits cancer centres at Southmead Hospital
Friday, 11 August 2017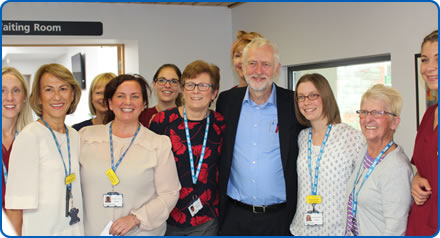 The Bristol Breast Care Centre and NGS Macmillan Wellbeing Centre at Southmead Hospital hosted a visit from Labour Leader Jeremy Corbyn MP today.
Mr Corbyn came to the hospital during a visit to Bristol and was keen to see the support we provide to cancer patients.
He took a tour of the Bristol Breast Care Centre and the NGS Macmillan Wellbeing Centre next door, meeting staff, volunteers and patients.
Both of these centres opened in 2014 following the refurbishment of Beaufort House – one of the oldest buildings on the Southmead Hospital site – which included design input from patients and clinicians.
The Wellbeing Centre provides advice, complementary therapies and access to support and groups for people living with or beyond cancer or those affected by cancer. It provides both a drop-in service and pre-arranged Living Well courses, as well as a vast library of information leaflets that people can take away with them.
Mr Corbyn sat down for tea and cake in the Wellbeing Centre and heard about the emotional support Elaine Creber has received from the service.