Bristol Hospital charity celebrates business partnership which has raised over £12,000
Bristol Hospital charity celebrates business partnership which has raised over £12,000
Wednesday, 23 November 2011
The 'Shine together' charity at Southmead and Frenchay hospitals is celebrating a milestone thanks to the support of staff at John Lewis Cribbs Causeway.
Over the past four years the company has supported a number of charity initiatives at the hospitals and the level of its support has now passed £12,000.
Projects including bereavement rooms, a garden make over at Frenchay hospital, children's ward, and support for the hospital's maternity unit appeal have all benefitted from the support of staff at the Cribbs Causeway outlet.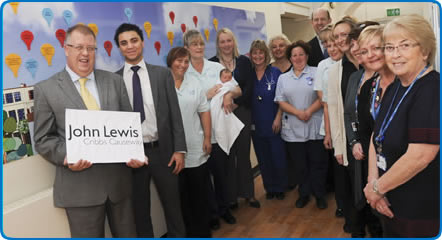 Trevor Reid, Head of Fundraising at the hospitals said, "The Shine together charity at Southmead and Frenchay hospitals has been delighted to work with John Lewis Cribbs Causeway over the past four years.
"As a hospital charity we have a varied programme of work and the staffs at John Lewis have been incredibly supportive, making significant donations in our bereavement rooms and on our children's ward."
Most recently the John Lewis staff have helped support the hospital's work in the community with children and provided equipment which will be used in a new outreach centre run by the Hospital Trust.
Liz Mihell, managing director, John Lewis Cribbs Causeway said "Working closely with 'Shine together' over the past four years has given us a real opportunity to make a difference to people in the surrounding area. Here at John Lewis Cribbs Causeway we are proud to have given both financial and project based support to such valuable causes. We hope this partnership can continue to grow and succeed as it has so far."
Trevor added, "Not only have John Lewis Cribbs Causeway helped us kick off our fund-raising appeal this year for the Southmead hospital maternity unit, they have also made further pledges to support our charitable efforts this year and we must thank all of their work force for supporting a cause so close to home."