Knitting sessions benefiting patients on wards at Southmead Hospital Bristol
Knitting sessions benefiting patients on wards at Southmead Hospital Bristol
Monday, 13 October 2014
Patients at Southmead Hospital have been benefiting from knitting sessions on the wards.
Wool and knitting needles have been provided for inpatients as part of the programme that has proved therapeutic for those taking part.
Staff and visitors to the hospital have also been getting in on the act by taking part in drop-in sessions.
Knitting has been brought onto the wards by artist Ali Brown who is incorporating squares knitted by patients, staff, visitors and members of local community groups into an art installation that will be unveiled during the Fresh Arts Festival at Southmead Hospital Bristol later this week.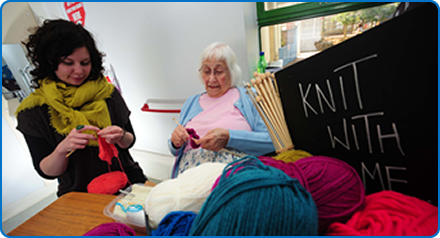 Patient Gladys Ebert was an avid knitter but had not picked up needles in recent years, until Ali brought some wool into Elgar House at Southmead Hospital Bristol.
The 88-year-old set herself up in her room, knitting throughout the day with staff and other patients popping in to see her and benefiting from her knitting tips.
Gladys, of Yate, said: "When I was young I did lots of knitting and sewing, my grandmother taught me to knit when I was 11.
"When I got married I knitted for the whole family. I hadn't been knitting recently but started again in here and now it has got me like a bad habit.
"I've enjoyed knitting in hospital, every bit of it. They have to tell me to go to bed because I can go on for hours.
"It has made me feel relaxed."
Having picked up the knitting needles again, Gladys is now planning what she can start knitting when she returns home from hospital. 
Ali Brown has been holding knitting sessions in residential homes for several years and had seen how therapeutic it can be and felt it could translate to patients in hospital.
"Everyone is part of creating something, even if it is just a couple of rows on your lunch break or a hundred squares, it won't work without one or the other," Ali said.
"It is a really valuable way of bringing people together."
Ali said that she has seen a difference in the patients she has been working with at Southmead, from those with arthritis to people who have had strokes and patients with dementia.
"Quite often someone will say 'I can't knit because my hands hurt through arthritis' but with a little bit of gentle encouragement they have managed to knit a row and then before they know it they have knitted for an about an hour and are surprised they can do it," she said.
"There have been people with dementia who are quite confused and if they cannot knit I still sit and talk to them about the wool, encourage them to touch it. There was a lady who would hold the wool while I knitted and it would make her feel more relaxed.
"Another patient was in quite severe pain with her knee but knitting was a distraction for her and she could sit and knit for about 20 minutes."
Director of Nursing and Quality, Sue Jones, said: "The knitting sessions are helping people to engage and connect with others.
"It is not just about the craft but is taking their minds off being in hospital and encouraging them to meet other people.
"For dementia patients and those with memory loss knitting really is therapeutic.
"It is a really positive thing that we are doing for our patients and we have had some great feedback."
And for those who can't knit, Ali has been encouraging them to make pom-poms that will be used on the giant jumper that will go on display at the community arts festival at Southmead Hospital from Thursday, October 16 to Saturday October 18.
There will also be drop-in knitting sessions for patients and visitors during the festival, from 11am – 3pm at Costa each day and also from 5-7pm on the Friday.