Live music at Frenchay and Southmead hospitals to boost patients recovery
Live music at Frenchay and Southmead hospitals to boost patients recovery
Thursday, 3 March 2011
Only Men Aloud's Craig Yates and Claire Jones, official royal harpist to the Prince of Wales, will perform at Frenchay and Southmead hospitals as part of a year long programme of music to enhance patients recovery.
From African dance to Celtic folk and gypsy jazz, the Fresh Music series at North Bristol NHS Trust runs until March 2012.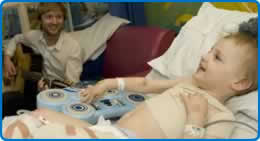 Live musical performances will be staged on two days every month throughout wards, waiting rooms, restaurants and public areas at the hospitals.
Fresh Music aims to create a positive healing environment to support the physical and emotional recovery of patients.
The gigs will also entertain visitors, provide a talking point for patients and re-invigorate staff by giving them a break from the daily routine.
Two performances have already taken place by accordionist and guitarist Jamie Smith and folk jazz act the Archer Pearce Duo.
On May 17 and 18 Claire Jones, harpist to HRH The Prince of Wales, will perform while Craig Yates, a member of Only Men Aloud, the winning choir in the BBC's 'Last Choir Standing', will sing on October 18 and 19.  
And on March 15 and 16 there will be traditional African music from Mamadou Cissokho, who has performed previously at Glastonbury and the Womad Festival. 
International folk artist Miranda Sykes will play in April ahead of a summer season packed with music from around the world.
The Fresh Music series is part of the Fresh Arts initiative at North Bristol NHS Trust which Fresh Arts manages a programme of regular exhibitions and staff activities as well as projects that improve the hospital environment for patients and visitors.
Fresh Arts programme manager Ruth Sidgwick said: "There is clear research that shows that music and the arts make a huge difference to the recovery and clinical outcomes for patients, reducing their length of stay in hospital.
"Performances like these help to ease anxiety and depression as well as stimulate patients and perhaps even get them moving.
"It is also a great bonding experience for patients, visitors and staff.
"After the first two performances we have had great feedback about what a difference it has made to hospital life.
"We are so lucky to have such a distinguished and talented series of musicians playing for us at Southmead and Frenchay hospitals, and anyone is welcome to come along and join in."
Julie Fisher, a play specialist in Frenchay's Barbara Russell Children's Unit, said: "The performance from Archer Pearce Duo was a fantastic experience for the children, it really put a smile on their face, and on the faces of their parents, and was a great boost to the day."