Lord Mayor visits Move Makers
Lord Mayor visits Move Makers
Wednesday, 9 May 2018
Lord Mayor visits Move Makers volunteers at Southmead Hopsital 
Lord Mayor of Bristol, Councillor Lesley Alexander, visited Southmead Hospital today to meet some of the Move Maker volunteers who provide a warm welcome to patients and visitors.
The 124-strong volunteer team has been helping support people visiting the hospital since the new Brunel building opened in May 2014.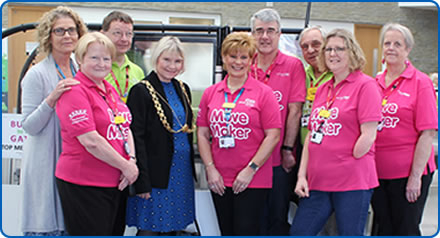 They were originally due to help out for the first three weeks as services moved from the old facilities at Frenchay and Southmead into the purpose-built main hospital building, but proved so popular they were asked to stay and will be celebrating their fourth birthday this week.
57% of the current Move Makers have been here since the beginning and between them all they have volunteered  95,000 hours over the last four years.
Our Move Makers were inspired by the London 2012 Games Makers and are the friendly faces welcoming people to the hospital, showing them around the site, helping out with wheelchairs and driving the buggy through the atrium for people with mobility problems.
Move Maker Manager, Jill Randall, said: "I am so proud of the success of the Move Makers since they first started in the hospital four years ago.
We have such a lovely bunch of volunteers helping show patients and visitors around and taking away some of the stress that coming to hospital can bring.
It was wonderful to welcome the Lord Mayor today and show her the great work the Move Makers do."
One of the Move Makers, Helen Williams, told the Lord Mayor how she found volunteering with the team a "lifeline".
"For me this is like a lifeline", she said.
"Everyone is so lovely and for me it feels like giving something back."