Marines help out with move into the new Brunel building
Marines help out with move into the new Brunel building
Wednesday, 14 May 2014
The military gave North Bristol NHS Trust a helping hand in preparing for the move of the first patients into the new Brunel building.
A team from Royal Marines Reserve Bristol spent several hours at Southmead Hospital Bristol on Sunday erecting a tented walkway between C ward in the old building and the entrance to the Brunel to help protect patients from the elements as they are transferred.
The team of eight reserves led by Sgt Cooper battled blustery conditions to put up tents borrowed from 30 Commando to create the walkway, which came into use for the first patient moves on Monday.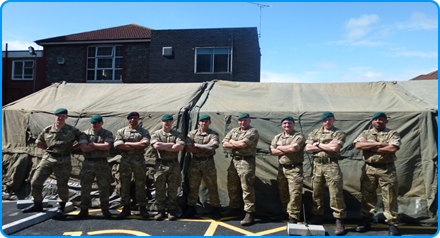 The Clifton-based Royal Marines Reserve were called upon to help out by a medical reservist who works at the trust and were happy to be involved as they try to help out the local community.
Sgt Cooper said: "The reserve unit is based within the community and all the guys generally are local, so if there is any help needed we are often called, whether it is to supply sandbags or visit schools.
"We are attached to the Navy and all our medics, be it doctors, nurses, or whatever work within the NHS when they are not on tour or exercise.
"We tend to act as a conduit between the regular forces and the reserve forces so when they are doing something they tend to ask for our support and we help as best we can."
The Royal Marines set up a walkway that was about 80m long connecting C ward of the old Southmead Hospital main building with the main entrance to the new Brunel building so that patients could remain under cover as they are transferred across into their new rooms.  
Director of nursing and quality at North Bristol NHS Trust, Sue Jones, said: "A big thank you to the Royal Marines for providing the walkway tent for the move of patients into our new hospital.
"The intention was to protect patients from rain, should it rain this year as it did last year.  What was most impressive was that the tent also protects the privacy and dignity of patients transferring to the Brunel Building on beds and in nightclothes."
To see photographs of the Marines putting up the tented walkway visit:  http://bit.ly/1mpFx3d