Men's Health Week: Get your prostate checked & join Run for the Future to fight prostate cancer
Men's Health Week: Get your prostate checked & join Run for the Future to fight prostate cancer
Wednesday, 15 June 2011
Prostate cancer is the most common cancer in men and makes up 25 per cent of newly diagnosed cases of cancer in England and Wales.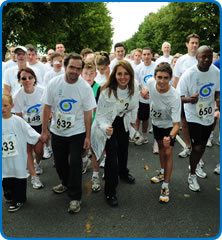 June 13 to 19 is Men's Health Week and North Bristol NHS Trust is highlighting how you can fight the disease and help raise money for vital research by taking part in Run for the Future.
The chances of developing prostate cancer increase as men get older with most cases developing in men aged 65 or older.
Each year around 10,000 men die from prostate cancer in England and Wales.
But unlike many other cancers, prostate cancer usually progresses very slowly and for this reason it is easy to treat if it is caught fast enough.
Bristol is at the forefront of finding breakthroughs into treating and preventing prostate cancer.
The Bristol Urological Institute (BUI) is based at Southmead Hospital and is internationally renowned for its ground-breaking research.
At the moment there is no national screening programme for prostate cancer and currently the only way to test for cancerous cells is through a test of the Prostate Specific Antigen (PSA) proteins in the blood.
A raised level of PSA could be a sign of prostate cancer but can be a symptom of something less serious, like an enlarged prostate.
Men who are concerned should ask their GP for a PSA level test.
Run for the Future
In 2000 the BUI Prostate Cancer Care Appeal was launched to raise funds for vital research.
One of the biggest fundraising events staged every year for the BUI's appeal is the Run for the Future, held on Clifton Downs.
This year it is held on September 18.
The 5k run, walk or jog organised by Bristol Rotary is for all the family to take part in together and has, since 2006, raised more than £190,000 for vital research and breakthroughs into prostate cancer.
Martina Peattie, Run for the Future Event Organiser, said: "It is a sad fact that as many as 35,000 men are diagnosed every year in this country with prostate cancer and 9,000 die from the disease, about the same number of deaths as women from breast cancer.
"The Run for the Future is Bristol Rotary's way of raising important awareness about prostate cancer as well as vital funding for the BUI's Prostate Cancer Care Appeal.
"The event is now a regular fixture in Bristol's fundraising calendar. Please come and join us."
Professor David Gillatt, Director of the BUI and one of the country's leading prostate cancer surgeons said: "I want to urge men to make sure they know the early symptoms of an enlarged prostate and women to encourage the men in their lives to get themselves checked.
"Run for the Future has played an important role in delivering funding for vital research into treating and understanding prostate cancer.
 "But we need to do more and that's why we really need the people of Bristol to support our research and sign up for Run for the Future."
Find out more about Run for the Future, which takes place on September 18 2011. You can register online or by calling 0117 9505050.