Mural created by local schoolchildren unveiled at Cossham Hospital
Mural created by local schoolchildren unveiled at Cossham Hospital
Monday, 9 March 2015
A colourful and imaginative mural created by children from St Stephen's Junior School in Kingswood was unveiled on Friday afternoon (March 6) at Cossham Hospital.
Working with artists Monika Rycerz and Aoife Barrett, nine children from the school (which is located close by the hospital) visited Cossham in the autumn to find out more about the rich history of the hospital building and its founder, local MP and benefactor, Handel Cossham.
During the visit they made lots of drawings and sketches of the building which underwent a major refurbishment two years ago.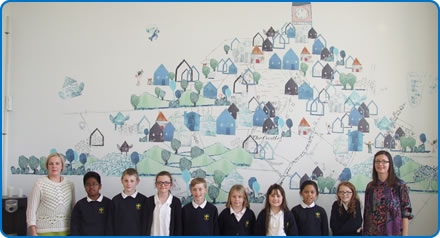 Back in the classroom, Monika and Aoife taught the children print-making and design skills to create a large scale mural that has been installed in the main waiting area and a limited edition of hand-made art books containing some of their prints.
Ruth Sidgwick, Arts Programme Manager for North Bristol NHS Trust, said: "The mural is just fantastic and brings to life the main outpatients waiting room.
"The designs and images the children came up with are just so imaginative, we particularly love the depiction of Handel Cossham as a superhero – which, of course, to many people in this area he most definitely was – complete with wings.
"In addition, a series of around 20 images from the mural have been placed around the ground floor of the hospital in hidden areas waiting to be found by visitors old and young alike."
Louisa Wilson, Headteacher at St Stephen's, said: "The children have thoroughly enjoyed working with professional artists on this amazing arts project. It has allowed them to contribute to something within their local community and to show off their creative talents."
The project was commissioned by Fresh Arts, the arts programme managed by North Bristol NHS Trust and supported by funds from the Southmead Hospital Charity.
You can find out more about the hundreds of projects that Southmead Hospital Charity funds by visiting www.southmeadhospitalcharity.org.uk