NBT scores highly in national inpatient survey
NBT scores highly in national inpatient survey
Wednesday, 4 May 2011
Patients have, once again highly rated the services, care and treatment at North Bristol NHS Trust.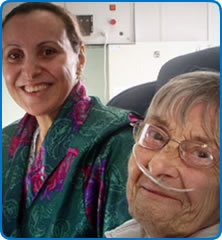 488 patients were questioned in the 2010 National Inpatient Survey.
98 percent of those asked said they felt they were treated with respect and dignity whilst in hospital.
In addition, 94 percent said they would recommend North Bristol NHS Trust to family and friends and 93 percent said they were happy with the care they received.
Other key findings showed that 94 percent of patients were satisfied with the cleanliness of their room or ward and 90 percent reported that bathrooms and toilets were clean.
The Trust scored less highly when it came to complaints about noise at night – something which will be almost eradicated when the new hospital opens in 2014 with 75 percent of beds in single rooms.
Significant improvements were also made in providing single sex wards for patients and patients praised the working relationships between doctors and nurses with 93 percent saying they thought they worked together very well.
Marie-Noelle Orzel, Director of Nursing, said: "These results are encouraging and show that we are maintaining high standards of care for our patients."