New responsive website launched
New responsive website launched
Monday, 10 April 2017
Visitors to our website can now access all the info they need on their phones and tablets, thanks to a new responsive website funded by
Southmead Hospital Charity
.
The new website is designed to work on all mobile phones, tablets, desktops and laptops, meaning patients and other visitors will be able to find the info they need much more quickly and efficiently.
We want to keep on improving facilities for our patients, visitors and the general public and having a website which works properly on mobile devices is part of this.
With hundreds of expected and unexpected visitors coming to our hospital every day, it's important that everyone can find the information they need about how to get here, how to locate the key buildings and what facilities are available.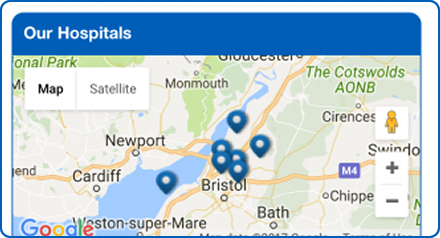 The responsive website includes easier reading on all pages, including how to cancel or change an appointment; travel and parking information; phone numbers; information on recruitment; and a virtual tour of the Brunel building.
Head of Fundraising at 
Southmead Hospital Charity
, Liz Bond, said: "We're delighted that thanks to our donors we have been able to fund this project which is so important for making life better for our patients."
"Because of our donors, we can support projects like the new website which have wide-ranging benefits in all sorts of ways. Patients, visitors and even people who'd like to work with us will be able to find out what they need to know so much more easily."