NHS 70 stories - a look back at pharmacy from the 70s until now
NHS 70 stories - a look back at pharmacy from the 70s until now
Friday, 29 June 2018
Hazel Arnold has seen many changes since she first started in Southmead Hospital Pharmacy including four different pharmacy departments and  four Directors of Pharmacy.
She started work at Southmead in 1970 and despite retiring in 2008 continues to work in the pharmacy one day a week.
Hazel came down to Bristol for her degree and when she graduated 50 years ago this year, was one of the first graduates from the University of Bath course at Ashley Down. The School of Pharmacy moved to Bath in 1968.
"It was a three-year degree course and I did a year's pre-registration training in Manchester afterwards, but you didn't have to do an exam for that," she said.
"You did the training and you were a pharmacist. That's changed now and it's a four-year degree course, followed by a year's pre-registration training and another exam. Pharmacists then go on to study for a Clinical Diploma (a further two years further) and some then complete a non-medical prescribing course (another six months)
"We used to have pharmacognosy lectures at university, getting to know the drugs that, in those days, were obtained from plants and resins. As part of our degree course we visited the drug warehouses in London which were filled with sacks of imported products for processing."
Prior to taking on the role at Southmead Hospital, Hazel worked at the Bristol General Hospital .  Preparation of stock pharmacy medicines was often undertaken by pharmacists, and pestles and mortars,  weighing scales and  measuring cylinders were in regular use.
"When I first came to Southmead we used to make intravenous (IV) fluids in glass bottles with a red rubber bung and an aluminium screw cap," Hazel said.
"We had a still for making distilled water, mounted on the outside wall of the department. It wasn't really efficient because if you were making infusions on a Monday you had to come in on a Sunday and turn the still on.
"We would use the distilled water to make the relevant solution. The bottles were filled and then autoclaved within the pharmacy to sterilise them.  The pharmacy porters (we had two) would then lift the red hot crates of bottles outside the back door of the pharmacy  (near the old Chapel) and leave them to cool."  
Bottles were inspected for integrity and checked for particles and then either rejected, or labelled for issue to the wards. Later, following an incident elsewhere in the country, rules were tightened and a separate Pharmacy sterile suite was built.
There were not many foil packets of tablets then. Drugs that were used frequently were supplied in pots or tins of 500 or 1,000 and had to be counted out into glass bottles and labelled with instructions. Liquid medicines were supplied in bottles with corks, gradually replaced with screw caps. A pot of label varnish was usually to hand to keep the labels of pharmacy stock liquids clean and readable.
"We had to write all our labels – and if you had made a mistake you would have to write the whole lot out again," Hazel said. 
"That became even more of an issue when the Renal department moved from Ham Green to Southmead and patients would have perhaps 12 or more bottles of Alucaps.  Each bottle and each outer box had to be labelled!"
There was a small  manufacturing department within the department and supplying items including hand cream, enema soap, Magnesium Trisilicate mixture , Kaolin and Morphine, Ammon et Ipecac. In the outpatient pharmacy at Monks Park we often diluted, mixed or made additions to a variety of ointments prescribed by the Dermatology consultants.
Pharmacists wore white coats and would put these into the hospital laundry, which was where the multi-storey Beaufort House car park is now.
"If a button came off you could walk down Dorian Road to the sewing room where a team of ladies repaired uniforms, curtains etc and they would replace the button for you while you waited," Hazel remembers.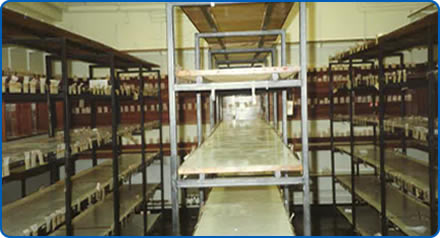 In the 70s stock control was via a paper based system called Kalamazoo, which was masterminded from the pharmacy office by the boss' secretary.  By the 80s the storekeeper had a system of little cards pinned to the shelves in the store. Everything on the shelf in the pharmacy had a card, and if you took the last one you would take the card into the office so they could order again.
"Now, of course,  we have  computers and a Pharmacy Robot  for a large proportion of prepacked goods but prescriptions  still need careful  screening dispensing , labelling and checking by qualified pharmacy staff," Hazel said.
The first pharmacy was off the main corridor in the old hospital building and in 1988 a new purpose-built pharmacy opened on the site of the old John Milton ward.
There also used to be a small outpatient pharmacy by the Outpatients/Emergency Department that was adjacent to the Monks Park Entrance on the site.
When the Brunel Building was under construction, the pharmacy relocated to a temporary home adjacent to Victor Neale Children's ward as the 80s building was demolished to make way for the new hospital. Pharmacy relocated to the Brunel Building when it opened in 2014.
"I'm just really pleased to still be part of it," Hazel said.
"I value being a very small part  of the dedicated and hard-working Pharmacy team."