NHS 70 stories - Ann's memories of training at Southmead
NHS 70 stories - Ann's memories of training at Southmead
Tuesday, 21 August 2018
Ann Pople did her pre-nurse training at Southmead Hospital and Brunel College back in the late 50s Here she shares some of her memories:
"I was too young to start training as a nurse when I left school ay 16 so I went and did a pre-nursing course run by Southmead Hospital Group and Brunel College. We went to Southmead for three days and for this we were paid £3-10-00, the other two days were spent at college, which was situated in Great George Street, off Park Street, in a converted Georgian House.
The interview was quite intimidating because there were two matrons and three teachers, but I got in.
At college we had lessons in biology, anatomy, maths and physiology, English and sometimes a one-off lesson like flower-arranging. They thought we would have time to do this on the ward, I wish.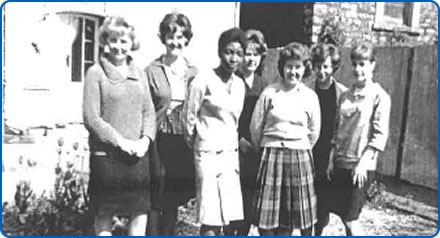 At Southmead we worked in different departments.
The maternity blocks were ruled over by a Miss White, a very formidable lady, tall with steel-grey eyes. This was the first place I worked when I started, we had to collect blood samples and other papers from the ward office and take them to the various offices around the hospital. 
In the Matron's Office you did whatever was asked of you. It was the most boring place to work and if you came in on a Saturday this was where you worked.
In those days Matron had control of thermometers and if a nurse broke a thermometer she had to come to Matron's Office for a new one and a record was kept.
Another role was keeping the books tidy in the Library and if a patient wanted a certain book, looking for it. Sometimes you were allowed to take the book to the ward for them.
In the Records Office we were given a list of names and had to find their notes. These were kept on long banks of shelves and some notes were easy to find, but if they were misfiled you had a problem.
I always found a reason near Christmas to go into the kitchen as the chef made a different Christmas cake for each ward and they looked great.
At the end of the pre-nursing course we sat the Preliminary Nursing Exam for State Registered Nurse. I failed and was advised to do the State Enrolled Nurse course. I then retook the prelim exam and passed but decided to carry on with the SEN training.
I started my SEN training at a small hospital, Walker Dunbar (WDH), which was then part of the Southmead Group, it was situated on the edge of the Downs in Clifton in two large converted houses and we still nursed a few of their patients. We had to live in.
Before that we had a few weeks of lectures and practical lessons. We learnt anatomy, physiology, maths, hygiene and about different illnesses, and on the practical side how to make a bed with a patient in it and give a blanket bath, where the patient was washed from head to toe on their bed, pressure area care. We washed the heels, elbows or buttocks with soap, then with surgical spirit and then a dusting of talc. If we had a patient come in with sores we used raw egg and oxygen, which was a good healer. We also cut the finger and toenails of patients and sometimes would wash hair while a patient was in bed. And we were taught how to lay up a tray and fill up a hot water bottle.
When we went on the wards we wore white coats. We learnt how to take out clips and stitches without infecting the wound, how to give injections. We had to test urine by putting a few drops in a test tube, dropping in a tablet and heating the liquid over a Bunsen burner.
WDH really was a good training school for all things practical. We had cleaners for the floors and high cleaning and we had to damp dust patient lockers and keep the sluice clean.
As part of our training we worked for a short time at St Brenda's maternity hospital where mums had to stay for 10 days after the birth of their baby.
We had to damp dust the nursery, put clean sheets on the cots and when babies came back from their feed we would top and tail them and put them down for a sleep. I can still remember the lovely clean baby smell. I also helped at a couple of births,
We went to Ham Green Hospital at Pill for more training. Here we nursed patients with diabetes and those with gastric ulcers.
I think looking back we learnt a lot about ourselves here as well as honing our nursing skills. It was a peaceful, healing place.
When the time came for me to sit my exams I passed my state exam and the hospital exam, which was a lot harder to pass, I stayed on and worked as a qualified nurse at WDH for a while.
Next I went to the Homeopathic Hospital, but I didn't like it there so returned to Southmead to have another try for my state registration. We started our training in a large converted house on the Downs near the top of Blackboy Hill.
I passed part two, as it was then, of my SRN, but later left as I was more at home with the practical side of things.
Our uniform was different coloured dresses with cotton caps and cotton aprons. I think when you passed your prelim Matron Webber folded your first cap for you, a tradition, but soon the design of the cap changed.
After getting married I worked part time in the Bristol Royal Infirmary. Several years later I went to work at Frenchay Hospital on their nurse bank but later I decided I needed a change and went to work for Crossroads Care and then St Peter's Hospice at Brentry.
Other things I remember are using a plastic sheet to keep creases at bay when making beds.
Inhalers were china with a glass mouthpiece and we had to be very careful.
From day one we were taught hygiene. Wash your hands often, stop cross infection. Once I escorted a patient to another hospital and on my return I was made to bath and change my uniform.
Patient meals were brought to the ward in heated trolleys and sister or staff nurse dished out the meals so they knew what each patient had, and if they had eaten it or not.
Smoking was allowed on the wards, unless there was an oxygen cylinder by their beds."