NHS 70 stories - Cindy's spent much of her life supporting Frenchay and Southmead
NHS 70 stories - Cindy's spent much of her life supporting Frenchay and Southmead
Thursday, 21 June 2018
Cindy Box is a currently a volunteer at Southmead Hospital but her connection with North Bristol NHS Trust and other Bristol hospitals has lasted for most of her life.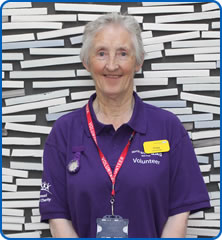 Here Cindy shares some of her memories:
When I was 15, I volunteered at Frenchay Hospital reading to children with cleft palate or lip.
My first NHS paid job was at the Bristol Royal Infirmary as a
clerical officer in the fracture clinic. In those days patients came from A&E carrying their wet plate X-rays in a carrying frame.
In 1974, I started at Frenchay Hospital, also as a clerical officer, working initially on nights. In medical records a lot of the time we worked alone, admitting patients via ambulance, or a phone call from the ward. It was our duty to get patients' records for emergency admissions.
If notes weren't in file but elsewhere within the hospital we had keys within the medical records to access all the departments sometimes it was quite scary going out in the dark to the Nissen huts or to Trust Headquarters, but it was worth it when we came back with the relevant records.
Another duty was to find beds for the emergencies, and often there weren't enough beds then. If we were unable to find a bed, we then liaised with the bed bureau at Southmead to see if they had any.
Computers weren't around in the NHS then, so patient details were punched into a metal addressograph plate recording  their hospital number, consultant, specialty, address, date of birth and their GP. It was then printed onto labels to make up their records and the plate was stored in a pocket inside their records.
Another duty was to get nurses from the nurse bank on request from various wards as and when needed.
We carried a bleep when we went out of the office in case we were needed. I was also on the major accident call out, all on a band 2.  I loved it so much I would have worked for nothing.
My salary in the early days was £99 a year.
After retiring I volunteered at Frenchay in the voluntary services office processing the volunteers' travel claims. I also rang the wards to see how many patients were able to attend the Sunday service in the chapel and organise the number of wheelchairs needed.
The day Frenchay closed I cried. It had been my second home for so long.
I helped move a lot of equipment over to Southmead and have been there since day one in the Brunel building.
I'm now a volunteer feeder and befriender. I serve breakfasts and feed those who can't feed themselves and talk to some wonderful patients who are very grateful for the care they are receiving.
I really count my blessings that I am still able to volunteer.
Thank you NHS.