NHS 70 stories - Mary's 26 years in the Frenchay Hospital sewing room
NHS 70 stories - Mary's 26 years in the Frenchay Hospital sewing room
Friday, 20 July 2018
Mary Nolan worked in the Frenchay Sewing Room.  It started as a job she could do while her children were young but she loved it so much she stayed for 26 years until she retired.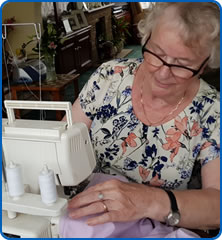 "I trained in Ireland as a seamstress and spent two years in college learning my trade," Mary said. 
"I lived in Frenchay very close to the hospital and was delighted to find a job where I could use my sewing skills and my hours meant I could work around my four children's school time."
In the sewing room seamstresses made screens to go around patient beds and curtains for the windows.
"In those days we used to make alterations to the nurses' dresses and turn them up if they were too long and make any minor alterations such as mending the pockets," Mary said.
"We also had to inspect the patient gowns when they came back from the laundry and examine them for any damage and very often we would need to attach new strings to keep the patients dignity.
"We used to keep a stock of pyjamas and nightdresses for patients and very often would alter them so they would fit nicely. We felt it was especially important if a patient came in unexpectedly and didn't have any nightclothes with them.  It was nice to think we were making a difference."