NHS 70 stories - Nic's 32 years at Southmead Hospital
NHS 70 stories - Nic's 32 years at Southmead Hospital
Wednesday, 4 July 2018
Nic Fudge had always wanted to do her nurse training at Southmead Hospital and in 1986 that's just what she did.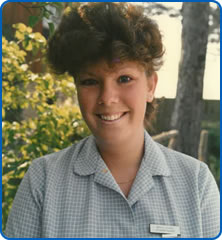 More than 30 years on Nic is now the Deputy Director of Midwifery and Deputy Head of Nursing in Women and Children's at Southmead and cannot see her career taking her anywhere else.
In the 80s the Southmead Hospital School of Nursing was on part of the site across the square from the front of the new Brunel building.
"Back then the staff nurses used to wear blue and the HCA uniform we used to call a jay cloth, it was like ours but brown," Nic said.
"We still had the State Enrolled Nurse role then too, and they wore green while the sisters or charge nurses wore navy blue."
When Nic started her training there was no direct entry course for midwifery, so after qualifying in 1989 she worked as a nurse at Southmead and Ham Green hospitals before starting her 18 months additional training, which was split between Southmead and St Michael's in central Bristol.
Nic's first baby was born while she was completing her training and she remembers taking him to her last lesson in what is now one of the maternity administration buildings.
After her maternity leave Nic started her midwifery work in the Antenatal Clinic. Next came a spell in Quantock, which provides antenatal care to high-risk women and assessment but she also worked in the community and Central Delivery Suite.
She was promoted to Quantock ward manager in 2003 and remained there until she became manager of the gynaecological care on Cotswold and matron in February 2017. In March this year she took up her current position.
Under Nic's leadership Quantock moved to increase the support available to women who required assessment to 24 hours a day, seven days a week, which has meant more women can return home rather than needing to stay in hospital as inpatients.
"I feel very proud of my career here at Southmead, I don't think I'd work anywhere else," Nic said.
"It's about the teams you build up around you, not just in Women and Children's but the wider teams. There are people I know I can go to if I've got a problem.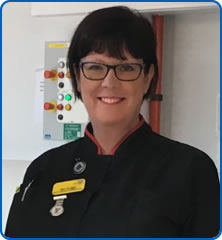 "If you commit yourself to a place it will commit itself to you."
Looking back at the 70 years of the NHS, Nic added: "I've been here almost half as long as the NHS has been going, that's quite a startling fact.
"I remember the silly little things like how years ago when I was on a male medical ward we used to keep whisky and brandy in the drugs cupboard and if the doctor prescribed it, we could give them a tot.
"And on Sundays patients used to get a cooked breakfast if they wanted it. We also made the porridge on a stove for the patients in the ward."