NHS 70 stories - Rose recalls fond memories of Cossham Hospital
NHS 70 stories - Rose recalls fond memories of Cossham Hospital
Wednesday, 6 June 2018
As part of our NHS 70 countdown we are sharing people's NHS story
Rose Hopes (née Pike) started her three-year nursing qualification at Southmead Hospital in January 1951 and lived on the hospital site during that time.
Shortly after qualifying, Rose moved to Cossham Hospital where she worked until 1974, including a break to start her family.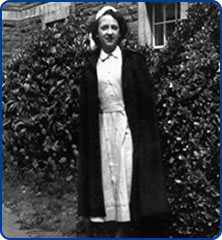 It was at Cossham Hospital where Rose enjoyed her best years nursing; "It was a great hospital with over 100 inpatient beds then. I loved going into work never knowing what to expect."
Last August a patient whose hand was crushed made headlines after he shared a photograph showing how it was sewed into his abdomen to help its recovery.
"When I was at Cossham there were a number of boot factories around and a lot of workers would come in after injuring their hands," Rose said.
"To help the hand recover and not get infected we would sew the hand into their stomach – we had so many injuries like that at the time we were doing it on a regular basis!"
Patients have always wanted to give something back after receiving excellent care. Rose recalls one patient in particular who turned up unannounced to give something back.
Rose said: "One patient had a real bad motorbike accident. It was so bad the kickstart from his bike was in his liver."
"He was in the hospital for a few weeks and as there as there was no intensive care at that time, he was nursed on the wards and made a full recovery.
"He knew on Thursdays we didn't have domestic staff. So on the Thursday after he was discharged he turned up on the ward and started to do all of our washing up!"
To find out more about our NHS 70 celebrations click here.