NHS 70 stories - From Southmead Hospital to Buckingham Palace
NHS 70 stories - From Southmead Hospital to Buckingham Palace
Tuesday, 12 June 2018
Not only did Debbie Mackenzie-Jones' parents both work at Southmead Hospital, it was where they first met.
Gordon Crane began working as a junior laboratory technician before the NHS and eventually worked his way up the career ladder to become Chief of Haematology. His 50 years of service included his national service where he served in the medical corps.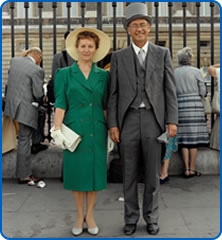 Brenda Crane spent the majority of her working life in the NHS, completing her nursery nurse training in London before training as a nurse at Southmead. After taking time out in the late 1950s to start a family, she then returned to work in the maternity unit.
Debbie recalls: "My parents first met on the wards and become a couple sometime after that. When I was growing up I was always incredibly proud of my parents working for the NHS."
As recognition to his work at Southmead Hospital, Gordon was rewarded with an invite for him and Brenda to a tea party at Buckingham Palace to celebrate the NHS' 40th birthday.
"My Dad worked incredibly hard to progress up the career ladder. He worked in the team that implemented the air tube system at the hospital that transferred blood samples to the pathology lab," Debbie added.
"I remember when we moved into our new house the NHS paid for a phone to be fitted and paid for the line rental for the next 40 years so Dad called be called in when he was needed."
While working in the maternity unit Brenda always worked Christmas Day and it included some friendly rivalry with the city's other maternity unit. 
"Every year it was a competition to see who would deliver the first baby on Christmas Day between the unit at Southmead Hospital and St Michael's Hospital," Debbie said. 
"When we used to pick mum up Christmas day she would let me go in and see the new born Christmas babies!" 
Debbie followed in her parents' footsteps into working in the NHS, working in various roles in the estates, psychiatry, cardiology and gastroenterology departments.