NHS 70 stories - Southmead's first IT employee looks back at technological changes
NHS 70 stories - Southmead's first IT employee looks back at technological changes
Wednesday, 27 June 2018
When Kathryn Dickens joined Southmead Health Services NHS Trust in 1983 she was the first IT (Information Technology) employee in the organisation.
Here she shares some of her memories:
My first role involved helping to get things started for the Patient Administration System that was coming.  I started on a five-month fixed-term contract, and never left!
Back then there was very little in terms of IT - Finance had their own IBM server and Pathology had some Data General servers connected to their analysers. At this point, staff were using typewriters and Gestetner machines. Board papers would be replicated on this machine, with pink corrector fluid used for corrections!
When a letter was typed back then there were three copies made: two carbon copies with one carbon copy filed and passed around all the senior managers 'for information'.  This was 'communication'.
In 1984 Digital Equipment Corporation (DEC) Rainbow computers (word processors) were introduced, allowing staff to make draft copies of documents that could be amended! This was such a big thing that staff were presented with commemorative mugs!
So 1984 saw the first Patient Admin System (PAS) being implemented. Southmead Hospital was 'flooded' with cables from the Computer Room in Beaufort House, where the servers were based, out to every ward and clinic, along with 8-port modem links to Ham Green, Thornbury and Clevedon hospitals.  Staff used DEC VT101 VDUs, these were just a screen and a keyboard, aka green screens. 

As a result of PAS, the Master Patient Index was 'translated' from microfiche which held details of all the patients' name, date of birth and their Medical Records Number (MRN). 
These were previously used to pull the case-notes from the Medical Records Library. These microfiche were sent offsite and the resultant files were uploaded into the PAS that was provided, and supported, by the South West Regional Computer Centre (part of the SWRHA).  The Patient Admin System included Waiting Lists, Inpatients, Outpatients, A&E, Clinical Coding, all previously being paper-based. 
A Pharmacy stock control and Renal clinical system were also implemented around this time.
In 1986 IT moved from Beaufort House to the 'Silver Building' (which has since been demolished to make way for the Brunel building) which housed 13 servers these included all the Integrated Health Care Systems i.e. PAS, ICS – Community Systems, Pharmacy, IPS - Pathology Systems along with Finance servers and all the necessary communication infrastructure.
Work started in 1996 to move towards an electronic patient record. This work slowed when Southmead and Frenchay merged to become North Bristol NHS Trust (NBT) in 1999 but during the late 2000s picked up again.
Systems to enable us to move further towards our ambition to be a paper-lite organisation followed from 2011 and earlier this month we took a step closer to this work when we moved to only accepting electronic patient referrals from GPs.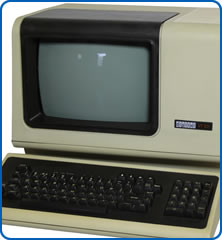 The 00s also saw the introduction of Digital Dictation with consultants recording their discharge notes on machines for the first time, with the audio recorded on to the servers.
Looking back over the last 34 years IT has changed at NBT beyond recognition, from nothing to where we are today. 
There were no PCs, no laptops, no email and definitely no wireless technology, and data required for Central returns was written in books on each ward or kept in each department to be amalgamated by the Information Department prior to submission. 
Paper is still around but is being phased out during the current Paper-lite programme. 
I was part of an IT on-call rota and the phone was literally the size of a brick, and as heavy!