NHS 70 stories - Tim's proud to be sharing his 70th with the NHS
NHS 70 stories - Tim's proud to be sharing his 70th with the NHS
Friday, 22 June 2018
Tim Pearce has always been aware that he shares his birth year with the NHS and is proud of his connection with the National Health Service.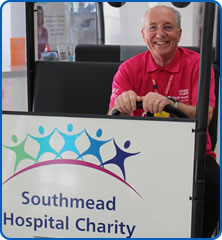 He is now a volunteer Move Maker at Southmead Hospital, having agreed to take on the role left vacant by his sister when she passed away.
"My sister Kay had volunteered in several roles for the National Health, in doctors' surgeries and local oncology units, St Peter's Hospice and then she heard about the Move Makers starting up before the new hospital opened and was one of the first ones," Tim said.
"It was at a family Sunday lunch when she told us that she had been diagnosed with terminal lung cancer. She was in her mid-70s and said she'd had a brilliant life but that one of her biggest regrets was not being able to carry on being a Move Maker so I took the job and my wife Anita did too."
Tim said that volunteering has "changed his life".
"I find I speak to people in the atrium who I might not have been able to before and it now means I can outside of the hospital now," he said.
Tim, who will celebrate his 70th birthday in November, is one of a handful of volunteers and several members of staff who were also born in 1948.
"I always knew I was born the same year as the National Health Service, my mother used to tell me. I feel enormous pride for the NHS," he said.
"When I've needed help throughout my life - and I've needed it several times – it's always been there.
"You have a bad accident and they are there straight away, they pick you up and put you in an ambulance, bring you into hospital.
"I was the youngest of five children when I was born and my mother could have the help with me that she couldn't have before. I got orange juice that was free to mothers."