NHS 70 stories - working at Southmead is a family affair for Elaine, Emma and Shantelle
NHS 70 stories - working at Southmead is a family affair for Elaine, Emma and Shantelle
Friday, 15 June 2018
For Elaine Woodman working at Southmead Hospital has become something of a family affair – as her daughter and granddaughter also work at the hospital.
Elaine first joined the organisation in the 1980s as a domestic and has worked in pathology services at Southmead since 2001, a year after she returned to the hospital for work.
Her daughter Emma-Jayne Woodman has been working at the hospital since 1996, initially as a domestic in pathology services. Other roles in pathology followed before joining the outpatients call centre and she is now a booking co-ordinator in cardiac testing.
Emma-Jayne's daughter Shantelle Walter joined North Bristol NHS Trust a few months ago as a typist in the rheumatology department at Southmead. She previously worked in the hospital's blood sciences building and had a stint in a GP surgery in between.
A fourth generation of the family was also born at Southmead this week, when Emma-Jayne's son's partner Danielle – who also works at the hospital – gave birth to a granddaughter, a niece for Shantelle and great-granddaughter for Elaine.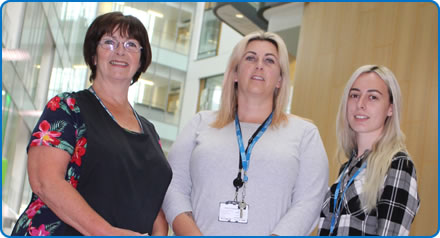 "I saw things changing in my time as a domestic - the use of machinery on the wards rather than just a mop and bucket and different uniforms," Elaine said.
After changing roles to join the pathology team Elaine was originally based in the old labs on the Southmead Hospital site, but with the new Severn Pathology labs opening the team moved into the new facilities.
"Those old buildings are the multi-storey car park now", she said.
"I've always liked working in hospitals. I think it is the atmosphere and the people.
"It feels like you are doing your part, providing a service and hope we do a good one. WE try to do the best we can.
"It's amazing that the NHS has been going for 70 years and I hope it will go for another 70."
Emma-Jayne first applied to work in the hospital because it was local to her.
"I spent a year away from the NHS and when I came back it was like coming home," she said.
"I don't want to work anywhere else.
"It's quite nice having family here, we meet up for lunch sometimes. Although we do completely different roles and different shifts and mum's in a completely different building to me and Shantelle.
"It's great to be part of the NHS in its 70th birthday year."
Shantelle said: "I find it really rewarding making a difference to somebody and that's what I enjoy.
"It's great having all of us working here."
Are you part of a family working at Southmead Hospital or North Bristol NHS Trust, or did you follow your relatives into work here? Contact us via NHS70@nbt.nhs.uk and share your story with us.