NHS70 Stories - Keith celebrates his 70th with the NHS
NHS70 Stories - Keith celebrates his 70th with the NHS
Thursday, 7 June 2018
As part of our NHS 70 countdown we are sharing people's NHS stories:
Like the NHS Keith Norman has also celebrating his 70th year. He was born in 1948 and turned 70 in April.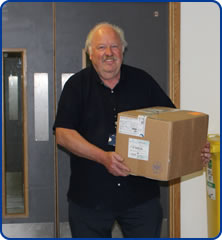 Keith joined North Bristol NHS Trust just over 14 years ago, after retiring from his career in the print industry because he "wanted to give something back".
He works in pathology services at Southmead Hospital ordering stock and delivering it to the different departments.
"I felt that I had taken a lot out of life and it's been good to me so I wanted to put something back in, while keeping myself active as well," Keith said.
There have been significant changes in the Trust since he started working here 14 years ago, most notably in the buildings where he has worked.
When he first joined the organisation Keith's work covered both Southmead and Frenchay hospitals and he was based in the old Lewis Labs but the centralisation of most services at Southmead and the opening of the new Severn Pathology labs has meant his work is now focussed on the site.
Keith's connection with the NHS locally goes beyond his work. Both of his daughters were born at Southmead Hospital and his wife works at NHS Blood and Transplant while one of his daughters is a district nurse.
Are you also celebrating your 70th birthday alongside the NHS, or do you know someonw who was born in 1948 and has a connection with Southmead, Frenchay or Cossham hospitals, Bristol Centre for Enablement, or any of the other services we have run over the last seven decades? Or do you have your own NHS70 story to share? Please email us.
For more information about how we are marking the 70th anniversary of the NHS please visit our NHS70 web pages.