Noel Edmonds encourages people to take part in 5k Run for the Future to support research and treatment of prostate cancer
Noel Edmonds encourages people to take part in 5k Run for the Future to support research and treatment of prostate cancer
Tuesday, 10 June 2014
North Bristol NHS Trust hosted the first of a series of focus events aimed at shaping future education and training for the nurses and healthcare assistants.
Around 100 members of staff from across the South West gave their views on how the education and training of nurses and healthcare assistants should change to future proof the workforce for the next 15 years.
Feedback from the sessions will be incorporated into the Shape of Caring Review, set up to ensure that nurses and healthcare assistants receive high quality education and training which supports high quality patient care.
The session marks the start of the formal engagement exercise for the nationwide review which is being led by Lord Willis of Knaresborough and co-chaired by Professor Lisa Bayliss-Pratt, Director of Nursing at Health Education England, and Jackie Smith, CEO of the Nursing and Midwifery Council.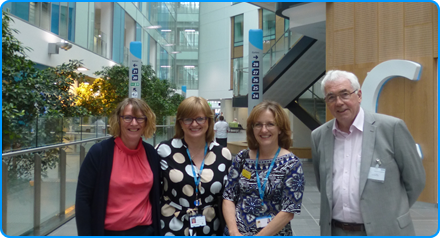 After the two sessions at Southmead Hospital's Learning and Research Centre Lord Willis was taken on a tour of the new Brunel building by North Bristol NHS Trust Director of Nursing and Quality, Sue Jones, and Head of Learning and Development, Jane Hadfield, where he saw how the building had been designed to improve patient care. Lord Willis also spoke to staff and patients on wards within the new hospital. 
Lord Willis said: "The NHS is going to look very different over the next 15 years and the demands upon nurses and healthcare assistants will be even greater. It is absolutely imperative that throughout their working life they are provided with the right education and skills to equip them for their role so that they can continue to provide high quality patient-centred care.
"I would like to thank each and every participant for their valuable input at the first session; their dedication, intellect and compassion was evident and feedback from this and all future engaegment sessions will be taken on-board as the final recommendations are developed."
Director of nursing, Sue Jones, said: "It was a very proud moment to welcome the Shape of Caring Review to Bristol for the first event in this important review.  Southmead Hospital provided the backdrop for the thinking about the education that will be needed to ensure the best workforce for the future, and there was no shortage of ideas coming forward."
The Shape of Caring Review publishes its recommendations in February 2015. A formal call for evidence will take place later this month.