North Bristol NHS Trust praised for setting up first hospital Memory Cafe
North Bristol NHS Trust praised for setting up first hospital Memory Cafe
Monday, 18 May 2015
North Bristol NHS Trust has been praised for its innovative work with patients with dementia.
The Trust was the first to set up a Memory Café in partnership with the Alzheimer's Society within an acute care setting.
Drop-in sessions are held in Southmead Hospital's Brunel building every Wednesday so that patients, carers and staff can find out how to access support in the community, while also being able to use reminiscence therapies, or simply enjoy a cup of tea and talk to people who understand dementia.
The initiative was highly commended at the recent BMJ Awards in the Dementia Team of the Year category.
The Memory Café provides a relaxed setting with tea, coffee and cake where people can speak to hospital staff or a support worker from the Alzheimer's Society about any queries they have, or to be signposted to organisations that might be of use to them.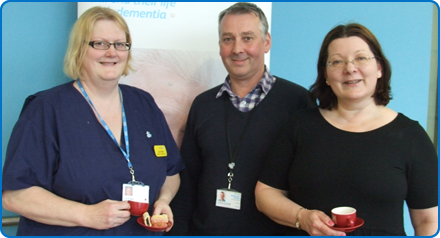 When the Memory Café was first set up the expectation was that it would be mostly carers who would attend the sessions but staff have also made the most of the drop-in service.
Specialty Doctor in Dementia Care, Judy Haworth said: "We have found a lot of staff who are also carers have come along and they have found that because they are working they cannot get any more information and we have established a link with staff wellbeing.
"We have also recognised that we are getting quite a lot of really stressed carers so our carer support worker at the café will speak to them and can also follow up and support those people after the session."
Dr Haworth said that the sessions also give the relatives or carers of people with dementia a break as they can come along and try some reminiscence therapies.
The Alzheimer's Society will then see a lot of the carers outside or signpost them to appropriate people who can go and see them, Dr Haworth said.
"We have carers who might come and speak to us about a patient's cognitive state and then we can follow that through with the individual, or the carers might say they are worried about their own memory and there are carers who want to know about choosing a nursing home or about discharge planning f or when the patient leaves hospital."
It is estimated that by the end of the year more than 300 people will have attended the Memory Café sessions.
The Memory Café is just one of a range of initiatives the Dementia Team at North Bristol NHS Trust have developed.
An innovative new Dementia Care Bundle has been implemented, which focuses on person-centred care and not only benefits patients with dementia or cognitive impairment but all patients within the Trust.
The bundle is personalised with background and information about each individual patient including the type of lighting or background noise they prefer.
Dr Haworth said:  "It may be that a patient has Radio 4 on at home and like that background noise. In some people with dementia noise really affects them, also whether patients are better suited to a 4-bed bay or single room.
"It is Innovative, no-one has done one like this before."
Door Grabbers have also been installed in rooms inside the Brunel building so that information about patient preferences can be displayed clearly on the back of doors for all staff who care for the patient to see.
Work is also being done to help entertain and engage patients with dementia within the hospital.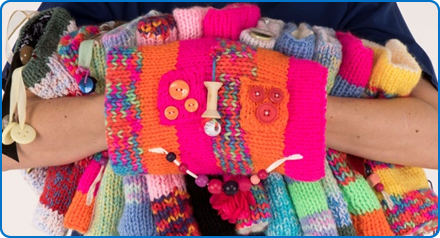 Colourful knitted comforters, known as Twiddlemuffs, have been knitted by staff, patients and volunteers and are being handed out to people with dementia.
Holding the Twiddlemuffs and playing with the different elements attached to them can be relaxing and reassuring for people with dementia.
Rummage boxes containing items such as costume jewellery are also being created for patients, to help stimulate conversation.
And Reminiscence Software Packages were bought for the Trust by Southmead Hospital Charity as a means of encouraging conversation with people with dementia.
The 'My Life' reminiscence software package includes a touch screen interactive system, which can be used at the patient's bedside or in the Memory Cafe, and contains a huge range of photographs, video clips, radio shows, music and lyrics dating back to the 1930s.
The team is also making a push for staff across the Trust, including those who work in non-clinical roles, to become Dementia Friends as part of a national initiative.
North Bristol NHS Trust is marking Dementia Awareness Week which runs from May 17 -23.