Nurse honoured at police awards for life-saving act
Nurse honoured at police awards for life-saving act
Tuesday, 21 March 2017
Nurse Abby Bamber was awarded at a special ceremony held by Avon and Somerset Police yesterday, for her life-saving act to save a victim of a stabbing attack.
Abby was off-duty on the evening of Monday 16 May last year, travelling home in a taxi when she saw a man, covered in blood, stagger in to the road. She asked the driver to stop and went to check on the man. Although a crowd had gathered, no-one was helping him.
Abby could hear him struggling for breath. She told a member of the public to call for an ambulance and immediately started to carry out resuscitation, continuing until paramedics arrived 10 minutes later. The victim had been stabbed in the heart and without Abby's immediate intervention, it is likely he would have died.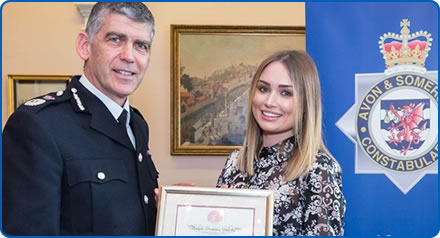 Abby's life-saving actions captured the attention of the national media, sparking a 'do you know the hero nurse' appeal. Abby said she simply "went into nurse mode" and did what came naturally to her when she saw that someone needed her help, dismissing claims by the media that she was a hero.
Abby, who works on ward 34A,  exemplifies the very best of professionalism at the Trust and hopefully has inspired a whole new audience to the enormous difference nurses make every day. 
The ceremony was held at the Merchants' Hall in Bristol, and was attended by Chief Constable Andy Marsh and Avon and Somerset Police and Crime Commissioner Sue Mountstevens, amongst others.