Nurses honoured in International Nurses Day awards ceremony
Nurses honoured in International Nurses Day awards ceremony
Thursday, 14 May 2015
Nurses at North Bristol NHS Trust have been honoured for their hard work at an awards ceremony held to mark International Nurses Day.
The Director of Nursing Awards were held in the atrium of Southmead Hospital's Brunel building with nurses and nursing teams receiving honours in eight categories.
Almost 100 nominations were made by staff across the Trust before being whittled down to a shortlist of 26.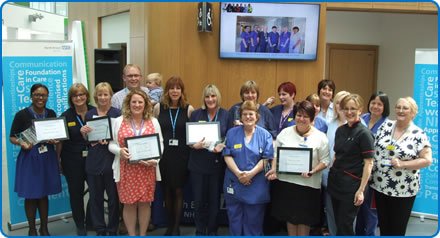 The first award of the afternoon was made by Director of Nursing and Quality, Sue Jones, to Tina Lancastle in the Healthcare Assistant category.
Tina works on Gate 28A, a ward for Complex Care patients, and was nominated for providing "exemplary care at all times",  "always going the extra mile" and being "influential on the team as a whole".
Her special skills in nutrition were acknowledged in her nomination along with the way she imparts this knowledge to junior staff.
Tina, who has worked for the Trust for 12 years, said she was shocked to receive the award.
"It's an honour to be recognised in your role and to know that you are appreciated," she said.
"I've got a good team behind me and my manager is superb."
Elpido Querimit who works on Gate 34B, Urology, was also shortlisted for the awards, having been nominated twice.
Lucinda Stanford who works in the Intensive Care Unit won the Assistant Practitioner award having worked her way up from Healthcare Assistant to Assistant Practitioner with "skill, determination and good morale" to "excel at her job".
The nomination described Lucinda - who now hopes to do her nursing training - as providing "amazing" patient care, always putting patients at ease and caring to a high standard.
Lucinda, who has worked at the Trust for two-and-a-half years, said: "It was a big shock to have won, especially because I'm not a nurse.
"Everyone on ICU is so supportive and getting this from ICU is unbelievable and so sweet."
Laurraine Johnson from Dermatology and Tina Best from the Acute Assessment Unit were also shortlisted in the Assistant Practitioner category.
Senior School Health Nurse and Practice Teacher Katy Green won the Registered Nurse/ Midwife award. The nomination stated that Katy could qualify for several of the awards categories because she is also an inspirational leader and excellent teacher.
It said "Katy is an extremely dynamic school nurse who works tirelessly to ensure that children, young people and their families receive the very highest standard of care".
Katy, who is based at John Milton Clinic, said she was "amazed" to receive the award.
"There are not many of us, so it is great to be able to fly the flag for school nurses in Bristol," she said.
In response to the comments made in her nomination, Katy said: "I was a bit embarrassed and emotional. It makes you reflect back on what you have done – you just do it every day and don't think about it – but I feel very proud."
Other shortlisted nominees in the Registered Nurse/ Midwife category were Senior Staff Nurse on 8B Abigail Bugler and Jessica Andrews who is a Staff Nurse in the Medirooms.
Lynne Bradshaw, Senior Research Nurse with the Prospect (Prostate Testing for Cancer and Treatment) team at the Clinical Research Centre, was honoured in the Patient Experience Champion category for the work she has done with the same group of patients for 14 years.
In the nomination it was highlighted that Lynne knows each of the individuals on the trial, can recount their story and often remembers when they were diagnosed and how that affected them and staying with them through the years.
"For many, Lynne and her team have become the bedrock of their patient experience," it said.
Lynne trained at Frenchay and has been a nurse at the Trust for 25 years.
"It was lovely to be nominated and to have that recognition from my line manager," she said.
"And it was fantastic to win, although I didn't really take it in at the time."
Other nurses shortlisted for the Patient Experience Champion award were Neonatal Intensive Care Unit Sister Sue Lamburne, Supervisory Sister on Gate 28B Emerline Albano, and Transplant Co-ordinator Jo Metcalfe.
The Nursing and Midwifery Teacher Educator award went to Oliver Phipps, Advanced Nurse Practitioner for Hospital @ Night, for his work "enhancing the patient journey", sharing his knowledge and serving as an inspiration to others.
"He really does stand out above others in his commitment and dedication to improving both the patient experience and the knowledge and ability of other members of the multidisciplinary team," the nomination said.
Oliver has worked for North Bristol NHS Trust for 13 years in various roles and now focuses on ensuring that patients receive the right response from the right member of the team at night.
He was "overwhelmed" to receive the award
"I feel a bit embarrassed but also very proud to think that people think of me in that way," Oliver said.     
"I feel really privileged to be part of this Trust and the many people who deliver patient safety."
Other nurses shortlisted in the Nursing and Midwifery Teacher Educator category were Emergency Department Sister and Emergency Nurse Practitioner Chrissie Hockley, and Advanced Nurse Practitioner in the CALS Team Ruth Jones.
Alcohol Specialist Nurse Rebecca Fowler, won the Workplace Mentor award.
She is currently four months into a year-long secondment in the role, which involves responding to referrals from across the Trust and supporting patients to access services to help with alcohol-related issues both while they are in hospital and in the community.
"She is well-liked by patients due to her calm and understanding bedside manner and ability to empathise," her nomination statement said.
Rebecca said she was delighted to discover she had won the award.
"I was very overwhelmed because I have only been in the role for four months," she said.
"My ethos is high standards of care to the clients in association with support for staff."   
Staff Nurse on ICU, Susan Broom and Lilibeth Uy, Staff Nurse in Elgar 3 were also shortlisted in the Workplace Mentor category.
The Nursing/ Midwifery Team award was presented to the Medical Day Care Team, which was formed in the Brunel last year from teams that had previously worked in different parts of Southmead and Frenchay hospitals.
The team of 32 was nominated by Sister Jackie Binns, who highlighted her "cohesive, highly skilled team who work very well together".
"They have all worked really hard to come together as a team, which has had its challenges and they have all stuck together for the same aim - to make patients happy and give treatment in a timely way and make sure they have had a good experience here in medical day care and I'm very proud of them all," she said.
"When we were announced I thought 'yes, people have realised and recognised that we are a really good team and how much we contribute to the Trust'."
The other teams shortlisted in the Nursing/ Midwifery Team category were Cotswold Ward and maternity's Safeguarding team.
Ward Sister for 9B, Complex Care, Beverley Davies, was named as Inspirational Leader.
She was nominated by a junior doctor who said "I have not since encountered such an inspiration". They added "she is an incredible example of a leader who cares so much about patients, patient care and all of her staff".
Beverley did her training in 1981 and first started working at Southmead Hospital 18 years ago.
"When we moved to our ward in the new hospital we had quite a new team and it's been team building over the year," she said.
"I just feel so proud to have won this award, but it's a bit overwhelming.
"All the work I've done is my passion, it's that you want patients to have the best care."
The other people shortlisted in the Inspirational Leader category were Supervisory Sister in Elgar 4, Emma Parslow, Sue Crew, the Non-Clinical Education Lead, and Respiratory Specialist Nurse Team Leader Jane Ashford.   
International Nurses Day is held on May 12 every year. The date was chosen because it was the birthday of Florence Nightingale, who is attributed as being the founder of modern nursing.
As well as the Director of Nursing Awards cake featuring Florence Nightingale and Mary Seacole was delivered to wards around the Trust along with a card from Chief Executive Andrea Young and Sue Jones.
Director of Nursing, Sue Jones, said: "I am so proud to mark and celebrate International Nurses Day, it is a chance recognise the extraordinary things nurses do for patients, their families and the multi professional teams they work with every day. 
"Reflecting on the work of Florence Nightingale she would be proud of the Brunel Building, our infection prevention record and our commitment to education. 
"This has been a chance to thank everyone, and look ahead at our bright caring and compassionate profession."
See a gallery of our winners.