Olympian and other Southmead babies help celebrate Central Delivery Suite's 30th birthday
Olympian and other Southmead babies help celebrate Central Delivery Suite's 30th birthday
Wednesday, 4 November 2015
Mums, babies and midwives shared stories of their experiences as part of celebrations to mark the 30th anniversary of Southmead Hospital's Central Delivery Suite.
Snowboarder Jenny Jones – who won Great Britain's first ever Olympic medal on snow when she took Bronze in the 2014 games in Sochi – joined Southmead's oldest and longest-serving midwife, her mum Helen, and other Southmead babies for the anniversary.
Helen Jones trained at Southmead Hospital and qualified in 1972. After working in community units belonging to the Trust for two years, Helen returned to Southmead and continued working at the hospital until 1992.
She returned in 2009 and now continues to work shifts for North Bristol NHS Trust at Southmead and Cossham.
Helen, who had all three of her children at Southmead – ahead of the opening of the CDS - and delivered her own grandson at the hospital almost two years ago, said that she continues to work because the "midwifery team is amazing".
Jenny said: "It was lovely to help celebrate 30 years of the Central Delivery Suite being open, especially as my mum has worked for Southmead for so long.
"It was great to meet some of the people that my mum works with because she's always talking about them and what a great team they are."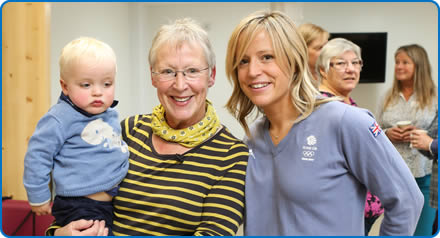 The first baby delivered by current Central Delivery Suite (CDS) matron Cathy Molloy when she was training at Southmead Hospital back in 1986 was among the guests, along with her baby who was born in the hospital 11 weeks ago.
Laura Abram recognised Cathy's name when she was visiting Southmead Hospital while she was pregnant with her son Charlie and realised she was the midwife who delivered her.
She has visited Southmead Hospital through her work as a paramedic – which has seen her deliver nine babies – and always knew she wanted to have her baby at Southmead.
Her mum, Gill, who also attended the celebrations, said that Cathy told her Laura was her first baby after the birth and the family had a photo of her weighing the baby.
"I wasn't sure if Cathy would remember me because I know midwives deliver thousands of babies, but it was really nice to meet her," Laura said.
"Charlie was born by emergency Caesarean in CDS after he became distressed after 21 hours of labour, and the team delivered him within 12 minutes of making the decision he needed to be out. We cannot thank them enough for our healthy 9lb 8oz baby boy."
Ladan Mahdavi gave birth to her second daughter Rojan at 11 minutes to 11 (10.49pm) on November 11, 2011.
Mrs Mahdavi, who was involved in the design of Southmead Hospital's Brunel building, said that when her husband Ali went out to the car while she was in Central delivery Suite, he noted that the temperature was 11℃ outside to add to the coincidences of their daughter's birth.
She said that Rojan, who will turn four next week, had been due but showed no signs of arriving earlier in the day.
"I had gone out for a walk because I thought it would be nice to give birth on that day," she said.
"I didn't feel I was going to give birth that day, but when it happened it was quite quick and she literally popped out."
Katherine Lloyd Pack also attended the event at Southmead Hospital.
Her son Gabriel was born in the Maple Suite – a dedicated suite of rooms for women who have experienced fetal loss.
Despite the sad circumstances Katherine felt her experience was also a "story of love and compassion".
"Without the amazing care and understanding of all the staff I don't think my partner and I could've got through that tough delivery," she said.
"I know it is a sad story because it ends with a stillborn baby, but to us it is also a story of love and compassion from some very special women who took care of, not only me and my family, but my baby as well. It is because of them that I have pictures to treasure."
Central Delivery suite Matron, Cathy Molloy, said: "It was wonderful to see so many Southmead mums and babies and current and former midwives together in one room to celebrate 30 years of Central Delivery Suite.
"We were delighted that so many people got in touch to share their experiences of CDS and that some were able to join us for our celebrations. We appreciate families taking the time to help us celebrate this landmark anniversary.
"On a personal level, it was lovely to be reunited with the first baby I delivered back in 1986 when I was training, and to also meet Laura's new baby who was also born here at Southmead.
"And it was great that Olympian and Southmead baby Jenny Jones could be part of the celebrations along with her mum, our oldest and longest-serving midwife."
North Bristol NHS Trust Chief Executive, Andrea Young – herself a qualified midwife – also joined the celebrations.
She said: "Southmead Hospital's maternity unit is such a great place to be and our midwives see people at such an important time in their lives. It is a great privilege to be a midwife and to be chief executive of such a fantastic maternity unit, celebrating this special anniversary.
"I still remember the first baby I delivered 35 years ago and it is lovely that some of the mums and babies born here were able to join in the celebrations."
More than 6,000 babies are born with North Bristol NHS Trust every year, in the CDS, Mendip and Cossham Birth Centres and women's own homes.
The maternity services also featured in two series of popular Channel 4 documentary show One Born Every Minute.
You can find out more about maternity services at the Trust here.