Our latest NBT Heroes
Our latest NBT Heroes
Friday, 10 June 2016
Earlier this year, North Bristol NHS Trust launched a new quarterly staff recognition scheme, 'The NBT Hero Awards'. Chief Executive Andrea Young came up with the idea at the end of last year saying: "Our annual Exceptional Healthcare Awards provide a great opportunity to acknowledge the hard work of individuals and teams within the Trust that have truly gone the extra mile. But once a year doesn't seem often enough to stop and recognise the excellent work happening across the Trust." These new awards, supported by Southmead Hospital Charity, provide a platform for more of our exceptional staff to be recognised throughout the year.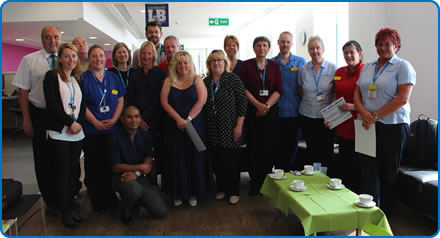 Staff across the Trust can nominate their NBT Heroes; colleagues and peers who consistently go above and beyond for their patients, those who come up with great new ideas, or that one person who simply binds the whole team together.
Recognition events are now held every quarter, where twenty winners are invited to join Chief Executive for an informal afternoon tea as a thank you.
Meet our latest batch of NBT Heroes, unveiled this week, and read a snippet of their nominations:
Carla Griffiths, Waiting List Coordinator, Colorectal
"Carla works tirelessly behind the scenes to support the colorectal surgical service and especially the Enhanced Recovery Team. Although her role does not involve direct patient care, she is passionate about ensuring the patients under her administration receive the best care, at the right time and by the right people, and she has a great appreciation of the patients' needs and anxieties when making arrangements for surgery. She works so hard with a drive and determination to get things right. Her work has been so crucial to our service that we call her our 5th Enhanced Recovery Team Member in the fondest sense."
Dr. Albert Power, Renal Consultant
 "Dr Power is very patient, listens to concerns, cares about his patients. He is approachable and easy going. He's a good problem solver and all staff and patients love him. He goes above and beyond for the patients and staff at the Bath Dialysis Unit and shows genuine concern for both."
Julie Deamer, Superintendent of Nuclear Medicine        
"Julie started working at Southmead Hospital back in 1976 as a newly qualified radiographer. Since those early days, things have moved on and there have been many changes both in the technology and examinations we routinely perform. Julie has always worked tirelessly to make sure these transitions have been as smooth and uncomplicated as possible for both patients and staff alike. She is one of those dedicated members of staff, that always goes the extra mile for her patients and colleagues. She is a good friend, colleague and manager! I could carry on, but feel that a true NBT Hero would be recognisable, not by a single act of kindness or not just how they treat others, but how those around them aspire to become more like them."          
Heather Lamb, Respiratory Nurse Specialist                   
"Heather Lamb is the unsung hero of the interstitial lung disease department. Heather is our respiratory nurse specialist for interstitial lung disease and has committed many years to the smooth running of our service. Whilst supporting our outpatient clinics, providing a knowledgeable and friendly ear to both doctors and patients; it is the 'behind the scenes' work, answering calls from concerned patients and GPs or running our local support group, where she truly is invaluable. I would like Heather to receive this award so that she knows how much we all appreciate her."
Jan Prior, IT Trainer           
"Jan totally deserves this nomination. Her calm attitude and patience has been invaluable whilst helping with training for our new patient record system. If she doesn't know how to do something, she finds out. Nothing is too much effort for her and she has dedicated much of her time to helping me, as well as many, many others at NBT. Although IT trainers are behind the scenes, not patient facing, her support has helped me to provide a much more efficient service to patients."  
Jo Hutchins, Restaurant Chef                               
"Jo is always willing to help and goes out of her way to make things easier around the restaurant and she is also extremely easy to work with! Just one example of her helpful attitude was when our Exec Chef was unwell and the other chef was coming in late that day, we needed someone to ice a retirement cake and even though she had never done it before Jo said she would do it and did an amazing job. It might seem like a small thing but Jo is an incredible asset to the Staff Restaurant."
Kim Clements, Learning & Development Administrator            
"Not only does Kim carry out her paid work with commitment, thoroughness and a hugely positive team spirit, she also volunteers as a befriender to help patients at mealtimes in complex care wards and she volunteers every week on her day off to teach new mums to knit. Kim has been a deeply committed, thoughtful and extremely generous volunteer. She gives her time and skills with humour, sensitivity and kindness that is tremendously supportive and calming to these anxious, nervous and often traumatised parents.  Kim is ALWAYS supportive and she makes my working life better and much more fun!"       
Kinga Dziura, Production Coordinator     
"Kinga's support has been nothing short of miraculous for me personally and also I think for our small team.  We've been away from our full department now for nearly two years and I could not think of a more deserving nominee who has always been there for the team even with the pressure of the upcoming move." 
Lynne Grigg, Renal Outpatients Bookings Coordinator            
"Lynne is well respected by the medical secretaries in the renal department as she has supported us closely with the changeover to our new patient record system. She always makes time for us and uses her initiative to ask relevant questions. Lynne has been a very stable support for us and we just know that when we are struggling to work something out, we can totally count on Lynne to be there for us. I think Lynne fully deserves recognition."
Margaret Stephens, Receptionist Gate 31           
"Margaret always has a welcoming smile and greets everyone coming into the unit with a warm 'Hello how can I help you?'. This portrays an excellent impression for patients/relatives and visitors coming into the unit. Margaret is willing to help everyone and often goes the extra mile for relatives when they get lost and turn up on our unit looking for their loved ones. She is hard working, always ensuring she does her job to the full. It is a pleasure working with Margaret. "
Martin Knowlson, Clinic Prep - Gate 5
"Martin is highly dedicated to his role and has made a huge difference to the efficiency of the Rheumatology outpatient clinics since he started. Nothing is ever too much trouble and Martin prides himself on being able to help staff and patients alike. Of note is one occasion when a pregnant patient visited the Rheumatology service. She had found it difficult to park and struggled to get to the department. Martin organised a mobility assistance trolley from the Atrium and escorted the lady back to her car. Martin always has a smile on his face and often treats his colleagues in Gate 5 to cake and chocolates in order to brighten their day."
Melisa Biggs, Respiratory Physiologist                
"Melisa always puts the patient first. She is kind, friendly and always explains to the patient what they will have to do in the department. Melisa always tries to accommodates patients for testing, even when they have no appointment - for example when they need testing urgently from Hot clinic or when they have seen a Dr in clinic. This is a great service for the patient as they only need to attend once. She works hard and encourages junior members of staff to perform to their best and provides a great mentoring service to students."
Michaela Pearce, Medical Secretary
"Medical secretaries like Michaela are worth their weight in gold. Michaela frequently handles calls from patients who are anxious about an upcoming appointment, spending time to make sure that they are reassured about the appointment or the transport to get them there. You can tell from her voice that she really cares and treats every person as if they were her family. As members of the 'back office', Medical secretaries are not often in the limelight, but Michaela is an outstanding example of the work that they do to help patients on a daily basis that doesn't get much recognition."
Robert (Bob) Gardiner, Site Supervisor               
"We are nominating Bob as our NBT Hero as he is always willing to go above and beyond the call of duty to assist patients, visitors and his colleagues and we feel he sums up all of the Trust's values. Bob certainly puts patients first. He never walks by and will always take the time to help those in need, treating them with kindness and respect. When dealing with visitors, Bob recognises the person and their individual needs and reacts accordingly. Bob strives for excellence in every task he undertakes and upholds the professional reputation of NBT. Bob works brilliantly with his colleagues. He is excellent at making new staff feel welcome and part of the team. Finally, Bob always keeps the mood in the office bright with his daft sense of humour."
Sharon Thomas, Outpatients Production Manager        
"Sharon has always worked above and beyond what is expected of her. She always puts her staff first and foremost and whatever problem occurs you will find her there at the front; no job is too little for her and no job too big. Words cannot express how much her staff appreciate the effort she will always put in and I think she deserves recognition for her loyalty to staff and to the Trust." 
Starn Chan, Hospitality and Restaurant Administrator              
"I've never actually met Starn but have received many emails from him when ordering hospitality catering for meetings. His emails are so polite, jolly and happy and nothing is ever too much trouble. You can tell he enjoys his job and gives 100%. His extremely happy mood rubs off onto colleagues and people like Starn make NBT a happy place to work. I believe this should be recognised."  
Steve Young, Porter            
"Steve is a great person. He cares!  He goes the 'extra mile'. In his role as a porter he is always willing and hardworking and when we have had emergency situations in the department he is always there to assist in any way he can. I feel privileged to have such a dedicated, amenable person to assist us in Medical Day Care. Steve puts a smile on our faces! He is a quiet, modest, unassuming person but he deserves recognition for the important contribution he makes to our working lives and that of the patients at the Trust. I have joked and said we need a 'cloning cupboard' to put Steve in!"
Stewart Smith, Junior Doctor                    
"For going above and beyond with patient care: staying behind for hours on a weekend to look after an acutely unwell patient and then, despite not needing to, accompanying her in an ambulance to the BRI. His car was parked at Southmead and he had work the next day. Prime example of the many times Stewart has gone above and beyond for his patients."        
Sue Parker, Clinical Matron           
"Sue has proven year after year her strong work ethic, her commitment and love for Neurosciences. Many of the Neuroscience staff do not appreciate how much she actually does and I would like to go out there and say thank you Sue Parker, you are my Hero."  
Terry Bentley, Ambulance/Blood Driver              
"I would like to nominate Terry because he is one of the most hardworking members of staff working for facilities; he takes his job very seriously and always puts the patient first. Terry regularly works through his break so patients needing to be moved around site by ambulance are moved as quickly as possible. Terry is always willing to help out his colleagues and nothing is ever too much trouble for him."          
Tony Norman, Physiotherapy Assistant              
"Tony has a wealth of experience and is an essential member of the neurosurgical physiotherapy team. He puts the safety and well-being of patients first and puts anxious patients at ease.  He is efficient in his work, has high standards and seeks determinedly to uphold them. His sense of humour helps team morale and makes our work more enjoyable. His contribution to the neurosurgical physiotherapy team is highly valued and I would like him to know that."
Speaking at the afternoon tea, Chief Executive Andrea Young said: "I'm proud to be the Chief Executive of an organisation with such a committed, caring and passionate workforce. It's important to take the time out to recognise and reward the individuals who are heroes in the eyes of their colleagues. I never cease to be impressed by the efforts of our wonderful staff."