Parents of poorly babies benefiting from knitting sessions in NICU
Parents of poorly babies benefiting from knitting sessions in NICU
Friday, 11 September 2015
Families of poorly and premature babies have been knitting as part of a project in the Neonatal Intensive Care Unit at Southmead Hospital Bristol.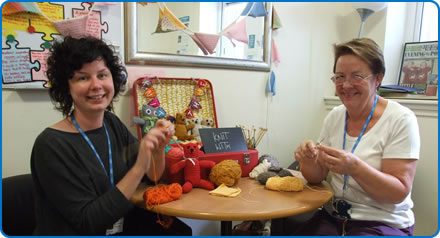 The sessions have been set up to support parents during the emotional time while their babies are being cared for in the unit.
It is a chance for mums and dads to sit down with other parents in a non-clinical environment making the most of the therapeutic benefits of the craft and talking to other people.
They are being run once a week by artist Ali Brown as part of North Bristol NHS Trust's Fresh Arts programme with support from volunteer knitters.
It is an extension of the patient knitting programme that was launched at Southmead Hospital last year with sessions continuing to be run on wards.
There has been positive feedback from mums and dads who have taken part in the sessions, including some who have learned to knit, crochet or make pom-poms.
Charlene Smith, whose three-month-old daughter Summer is currently in the NICU having been born at 27 weeks and five days, took up the opportunity of making some pom-poms as part of the sessions.
"I had come into the room for a cup of coffee and saw the "Knit with Me" sign and at first I was just talking to them as they showed me what they were doing and asked if I wanted to have a go," she said.
"I said I'd try a little pom-pom but I got so engrossed in it that I ended up making seven or eight of them – the time just flew by and it took my mind off things.
"I had felt stressed before I went in but found it so relaxing."
Families are able to take the wool and needles away with them so that they can continue knitting outside of the sessions.
Volunteer Kim Clements who works in the Learning & Development Team at North Bristol NHS Trust comes into the hospital on her days off to help out with the NICU knitting sessions.
"Some people just start chatting to us and aren't sure whether they want to take part, but when they do they really enjoy it," Kim said.
"But when they join in people have found it gives them a little relief. "
Kim was involved in knitting for the giant jumper installation that was made up of squares knitted by patients, volunteers and staff in their free time and hung outside the Brunel building during last year's Fresh Arts Festival. She also encouraged colleagues to knit during their breaks and made Twiddlemuffs, which are used to distract and entertain patients with dementia in the hospital.
And this year Kim and her colleagues have been making pom-poms for a knitted installation that will be unveiled ahead of this year's community arts festival on September 18 and 19.
The first stage has been unveiled this morning with knitted banners going up around the hospital featuring words of advice or wisdom that have been discussed during the knitting groups.
Once again patients who have been involved in the knitting project have been contributing to the installation during their sessions.
Ali said: "We have been making lots of pom-poms during the Knit With Me sessions and we have had a lot more men involved.
"I was working with a man in his 90s the other day who had never made a pom-pom in his life before I sat down with him."
She said of the NICU knitting sessions: "It's been good for parents to step out of what can be quite an intense environment for them and think about something else. Knitting and making pom-poms takes you out of your worries and people have found it is nice talking to each other and let off steam."
Knit with Me sessions will be held in the Brunel building during the Fresh Arts Festival on September 18 and 19.
The two-day festival will give local people who have not yet visited the hospital the chance to take a look inside the Brunel building and see how it was designed to be a more pleasant environment for patients, staff and visitors, incorporating art to both distract and help people relax.
The Trust's knitting programme is supported by Southmead Hospital Charity.
Jane Ibbunson, head of fundraising for Southmead Hospital Charity, said: " It is now well documented that there are positive health benefits for patient groups engaging in creative and artistic activities, including a reduction in stress and anxiety.
"The charity is proud to support projects like Knit with Me which have shown to be therapeutic for patients and the families of our babies in NICU."
For more information about the festival visit http://www.nbt.nhs.uk/fresh-arts/fresh-arts-projects/fresh-arts-festival-2015.