Past meets present in Southmead Hospital's First World War exhibition
Past meets present in Southmead Hospital's First World War exhibition
Wednesday, 9 September 2015
A hospital volunteer has discovered an autograph book featuring messages from injured soldiers treated during Southmead's time as a First World War hospital.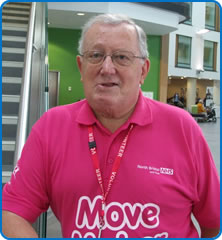 Move Maker David Bartlett found the autograph book filled with messages to his step-father's first wife, who was a nurse at Southmead Hospital.
The autograph book will form part of an exhibition inside the Brunel building during the Southmead Hospital Fresh Arts Festival on September 18 and 19, alongside a photograph album from another nurse who worked on the wards during the war and postcards from the time.
Southmead was a military hospital from 1914 – 1918 and was part of the 2nd Southern General Hospital. During the war 37,397 patients were admitted to the hospital with only 192 dying in the wards.
Injured soldiers, sailors and airmen - including some from Australia, New Zealand and Canada - arrived at Temple Meads on hospital trains. Southmead Hospital treated shrapnel wounds and shellshock and also provided rehabilitation for badly-injured soldiers with workshops where they could learn crafts to help them earn a living in civilian life.
David, 76, re-discovered Mrs Gough's autograph book after he retired and mentioned it when he got in touch with the hospital to volunteer to be a Move Maker.
During the First World War Mrs Gough was working in Ward One of the old Southmead Hospital. The messages in her autograph book date back to late 1915 and 1916 and range from cheeky requests for a kiss to limericks and a dedication to a Drummer who ended up at Southmead Hospital after losing both of his eyes, an arm and part of his hand in an explosion.
David, who has been a Move Maker for two months, said: "When I read through the messages some of them are very sad.
"I knew nothing about the war so it is nice to be able to read of people who put their lives at risk, defending us on the Front, who were unfortunately injured but wanted to take the trouble to write and thank the nurses who were looking after them."
As well as Mrs Gough's autograph book, Beatrice Hutton's photograph album from her time at Southmead Hospital during the First World War also give a picture of what it was like on the wards during that period.
Her captioned photographs show groups of patients posing outside of the hospital, nurses cleaning the wards and wounded m
en in hospital beds being wheeled into the grounds.
The exhibition also includes scans of original postcards sent from the hospital by wounded soldiers.
Among the postcards are those showing the hospital in a rural location, a soldier standing at the gates by Southmead Road, patients waving from a balcony in the old hospital building and kitchen staff preparing to carve a joint of beef.
Messages on the postcards were upbeat as the soldiers wrote to their families to let them know they were back in the UK and safe.
Oral historian and researcher Mary Ingoldby uncovered some of the items that feature in the exhibition while researching the old Beaufort War Hospital in Fishponds, which was later known as Glenside Hospital, and felt they could be incorporated as part of commemorations of the First World War and the old Southmead Hospital.
 "People who know the old Southmead will recognise quite a lot of the locations," she said.
 "What is fascinating is that we are getting a glimpse of exactly 100 years ago and what was happening here and the people that were walking around the hospital."
Additional items have been lent to the hospital for the exhibition by Bristol Museum and Art Gallery and Glenside Hospital Museum.
These will be displayed alongside Western Daily Press articles dating back to 1916, including a story about convalescing soldiers from Southmead and Beaufort hospitals playing cricket against each other.
The two-day Fresh Arts Festival will highlight the role that the arts and creativity play in supporting healthcare.
It gives local people who have not yet visited the hospital the chance to take a look inside the Brunel building and see how it was designed to be a more pleasant environment for patients, staff and visitors, incorporating art to both distract and help people relax.
The festival will also showcase some of the projects that patients, staff and volunteers have been involved with inside the hospital and the local community as part of the North Bristol NHS Trust Fresh Arts programme.
North Bristol NHS Trust's Fresh Arts programme is supported by Southmead Hospital Charity.
For more information about the festival visit http://www.nbt.nhs.uk/fresh-arts/fresh-arts-projects/fresh-arts-festival-2015.