Patient's relative raises £200 for Southmead Hospital League of Friends
Patient's relative raises £200 for Southmead Hospital League of Friends
Friday, 29 September 2017
Southmead Hospital League of Friends has received a £200 donation from a relative who appreciated the support they offered his family when his brother was in hospital.
Andrew Griffiths, 55, raised the money by taking part in the Bristol Half Marathon.
He wanted to support the charity, which supports the hospital through its coffee shop in the atrium of the Brunel building, after his experience of using the service when his brother was in the Intensive Care Unit after a cycling accident in July.
He found the café a "sanctuary" and said it was a useful meeting place for family members when they were visiting his brother.
"We used to wait in the League of Friends when there was a procedure going on and we also used it as a meeting place for the whole family," Andrew said.
"Over a period of two months we got to know them all in there – they are amazing. Knowing that they are volunteers and that the money goes back into the hospital and you directly see the results was important to me."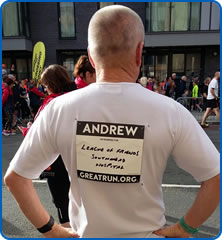 The League of Friends has been supporting Southmead Hospital for 40 years, with most of its money coming through its coffee shop.
Sandra Stocker, who runs the café said: "We are not aware of anyone running a half marathon for us before and it's lovely to have this first cheque. We really appreciate it.
"I'm proud of my volunteers and all they do to support patients and families when they are going through their journey within the hospital."
Mr Griffiths added: "During my brother's time in ICU he went through a lot of things and came out the right side. He's doing amazingly well and is in rehab now. The staff caring for him were amazing."